Aluminium Goal Net Clips – Slot Net Fixing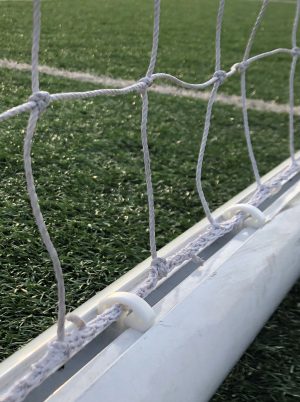 Easy to use Aluminium Goal Net Clips – Push and Twist to Lock
The net clip fitting has a unique design that allows a quick twist and push to lock the net and the net clip onto the goalpost uprights, crossbars or ground frames into the central recessed channel. The premium material strength of the goal net clips has seen them being used by professional sports clubs and grassroots teams nationwide. Designed to be used on aluminium freestanding or stadium goalposts with rear channels, the strong professional net clips are robust and will not come out of position when the ball hits the back of the net.
Goal net Clip  – This net clip will fit most different types of aluminium goalposts.
Securely attach your net to any aluminum football goal with these Aluminium Goal Net Clips – Slot Net Fixings.  Stadium aluminium goal net clips, freestanding aluminium goal net clips, futsal aluminium goal net clips, socketed aluminium goal net clips, folding goals in fact most of the various different goalpost manufacturer's goalpost frames can take our net goal clip. White goal net clips for attaching professional style goals nets to aluminium goals that have a rear channel. Strong net clips made from premium grade injection moulded white industrial nylon for use in all weather conditions; no metal, therefore the fixing is totally weatherproof. This Goalpost Slot Net Fixing will fit most aluminum goalposts. The net fixing will fit on most aluminum goalposts with slots; this includes Itsa goal branded goals, Forza goals, Harrod goals and other makes.
Fast and easily fitted to football goals at the start of the match and if required the net fittings are designed to twist off after games, although this type of net fixing is often seen left on training goalposts with nets attached.
Aluminum goal net clips Safety
The aluminium goal net clips exceed the current goal safety standards BS EN 16579:2018 & BS EN 748. We recommend placing the net fixings 340mm apart or more to prevent head entrapment, in line with standards. The clips for goals are the safest goalpost clips available. Quick and easy to use, the goal post net fittings easily connect goal nets into the aluminium recessed channel and are held firmly in place. An ITSA GOAL Registered Design pending. A net fixing that securely holds their position without coming out of place when the ball hits the net manufactured by ITSA GOAL POSTS LTD.
Click here to view the Goalpost Slot Net Fixing fitting instructions
Goalpost Slot Net Fixing D3
The Goalpost net fixing is available in a pack of 20.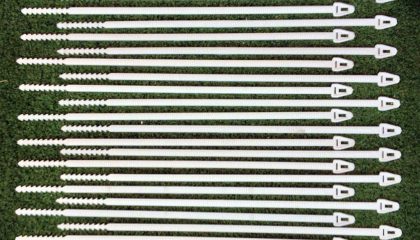 These releasable net ties allow you to neatly fasten nets to goal posts. A patented fixing arrangement enables the tie to stay secured in the same place to the goal net head cords yet release from the goal frame.Prevents fraying along back of goal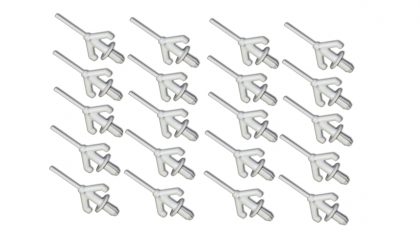 This net fixing can be fitted to any goalposts, drill and push to lock in place - no threading required.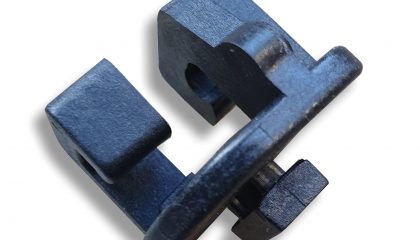 Goal Post Net Fixings for ITSA GOAL Post aluminum goalposts with recessed channels.