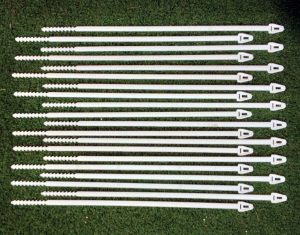 Goal Post Net Ties –  Pack of 50

Industrial nylon goal post net ties are used to attach nets to goal posts along the ground base frame and on the net support tubes at the back of the goal to help keep the net secured neatly in place. Goal post net ties are ideal when the goal net is to be left attached to the goal post frame. When goalposts have the crossbars and rear ground frames removed after the game for storage it s recommended that net ties be used on the side frames along the ground and on the net supports. this will keep nets in place for when they are next used.
Goal post net ties when used on the ground frame prevent goal nets from fraying along the base, unlike every other goal post that has goal nets wrapped around the post dragging along the ground and ripping them. The use of goal post net ties prevents the net from coming in contact with the ground. A Superior way of fitting nets and much better and less expensive than time-consuming clips pulling nets around the front of the posts.
For the best online prices for our net fixings visit  www.soccertackle.com