Goalpost Arrowhead Net Fixing – Nylon For Metal Goalposts
GOAL POST NET FIXING – Goalpost Arrowhead Net Fixing
Arrowhead Goal Net Fixings are manufactured in industrial nylon for extra durability and strength, a stronger version than our polypropylene arrow net hook version we provide for use on uPVC Goals. Easy to install, no thread required so, no need to tap the hole. To fit these neat net fixings simply drill a 8.8mm hole and push the net hook into the hole and secure with locking pin.  The fixings stay locked in place.
The Arrowhead Goal Net Fixings are supplied on some of our aluminium flat pack range of goalposts and also steel socketed goalposts.  We also supply white plastic polypropylene net fixings which we supply for our range of uPVC range of goalposts – Click here to view our Plastic Arrowhead goal net fixings or view related products below. Both these types of fixing can be retrofitted to goalposts of used with Ball stop netting when nets need to be fitted to posts.
This net fixing is approved by the National Playing Fields Association and invented and patented by John Wilson – ITSA GOAL. The net fixing helps to prevent nets being wrapped and taped around posts, so the net is neatly clipped on at the back of the uprights and crossbars, this also prevents paint peeling off steel goals and improves the ease of net fitting for the volunteers fitting nets on matchdays.
Click the link to view the easy to use Arrow net hook fitting instructions for metal goals.
To prices and to buy the corner bracket  visit our online supplier soccertackle.com
Goal Post Net Fixing Reviews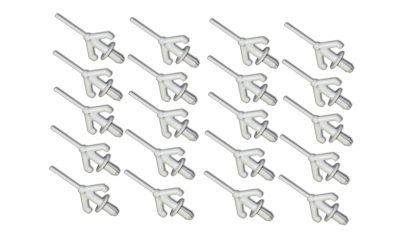 The fastest way to attach nets before a game. The fastest way of removing nets after a game The Neatest way of fixing behind the posts. All the benefits of rear net fixing with total safety.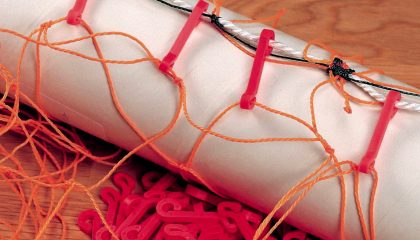 Fast clips enable goalpost nets to be pulled around the front of the posts and fastened to the net at the back. Ideal when no net fixings are supplied on goal posts.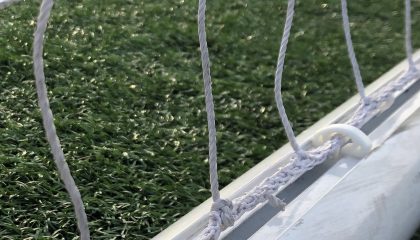 Goalpost Slot Net Fixing - Designed for Itsa Goal aluminium goalposts.