Easy to use Net Clips for Goalposts.
Net clips ideal for attaching all types of football goalpost netting securely. Made from plastic that fits onto and secures football goal nets to different types of posts. The Fasclip design requires that the Net wraps around the front of the posts. If you do not like the effect of nets wrapping around the front of posts and potentially interfering with the ball on rebound from the football posts we also offer plastic net fixings that clip on the reverse of the posts. see related products at the end of the page
Strong net clips that easily attach to all types of sports nets to keep them securely in place. Made from very strong plastic that fits around and secures the net comfortably. Easy to attach, and stay firmly attached. The Net Clips can also be used to attach and secure golf netting, cricket netting and additional sports netting.
Goal Net Clip Safety
Made in lightweight plastic providing a safer net fixing for footballers than plastic-coated metal arrow net fixings that protrude from the posts and can be dangerous when they become corroded or broken; Not to be mistaken with the ITSA GOAL totally plastic version of an Arrow net hook (Click here to view this highly recommended product) which does not have metal inside.
Should you require larger volumes of net fixings please contact the office or email sales@itsagoal.net
Fasclips are available in a variety of colours – For the best online prices for fasclips  click here  www.soccertackle.com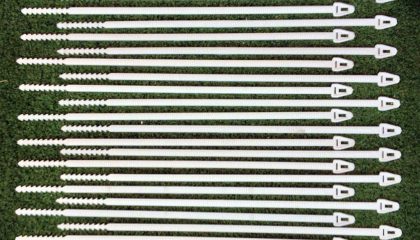 These releasable net ties allow you to neatly fasten nets to goal posts. A patented fixing arrangement enables the tie to stay secured in the same place to the goal net head cords yet release from the goal frame.Prevents fraying along back of goal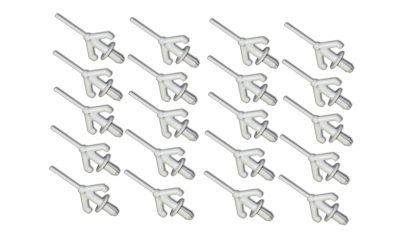 The fastest way to attach nets before a game. The fastest way of removing nets after a game The Neatest way of fixing behind the posts. All the benefits of rear net fixing with total safety.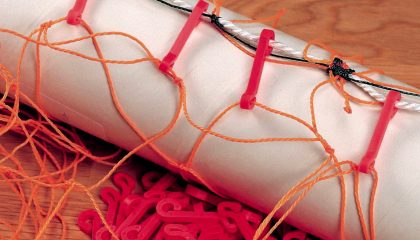 Fast clips enable goalpost nets to be pulled around the front of the posts and fastened to the net at the back. Ideal when no net fixings are supplied on goal posts.