Goal Post Ground Anchor – for 70mm goalposts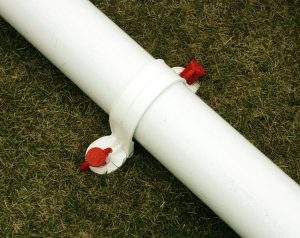 Football Goal Post Ground Anchor to fit 70mm OD aluminium goalposts back frames.
These Goal Post Ground Anchors are much safer then steel hoop versions. The method of anchorage involves crossed ground pegs under the frame and so provides extra anchoring strength as opposed to vertical anchorage, the multi-surface anchors are tested up to 1100 Newtons. The anchor can be used on grass with safety red pegs. This anchor can also be used on hard surfaces with the addition of concrete bolts, raw bolts or wood fixings to sportshalls.
The videos below demonstrate the ground pegs can easily be removed with the end of a red peg however or when the ground is hard it is advised to remove the pegs using a claw hammer as shown.
For the best prices on the goalpost multi surface anchor click here
To view various goalpost anchors and the best prices visit www.soccertackle.com