Goal Post Ground Anchor – 80mm goalposts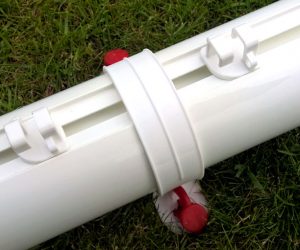 Goal Post Ground Anchor Designed for 80mm aluminium goalposts back frames. This design is safer than harder steel hoops. Crossed ground pegs under the frame provides extra anchoring strength; tested up to 1100 Newtons. The anchor can be used on grass with 190mm  pegs supplied or 300mm ground pegs (available separately) for sandy ground.
This anchor can also be used on hard surfaces with raw bolts in concrete or wood fixings to sports halls.
The best on-line  price for this goal post ground anchor is currently at www.soccertackle.com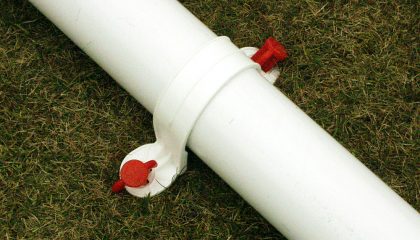 Goalpost anchors for 70mm OD - Ideal for ITSA Goal uPVC goalposts and aluminium goalposts with backframes of 70mm OD.