8'x4′ Garden Goal Multi Surface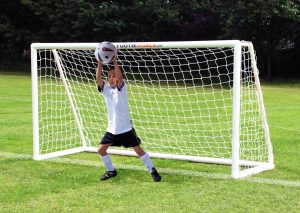 Garden Goal 8'x4′
The 8'x4′ Garden Goal Multi surface is the most popular garden goal size. The goal is ideal for the garden and looks fantastic. This competitively priced 8'x4′ Garden Goal is made in environmentally friendly high impact uPVC tube and is ideal when goals are be left in place in the garden with goal net attached. The goal is totally weatherproof, will not rust and can last a soccer lifetime.
This football goal uses the same mouldings, PVC posts and white nets that are used in the plastic club goalposts.  The goal netting is not wrapped around upright posts and crossbars but is attached properly to the rear of the posts with goal net ties that help prevent the net from fraying on the ground frame when being moved.
A Great value for money British made alternative to flimsy Far East, Forza and Samba Goals. The posts slot together and have net supports that do not bend, crease or shatter and are securely locked in place unlike all other plastic goals that have net supports just pushed into holes and not secured in any way.
Garden goals made to the latest goalpost safety standard BS EN 16579:2018
300% Stronger goalpost corner brackets than all other uPVC garden goals
Secured goal net supports into top corners
Garden goalpost net ties that extend the life of the net
Longer warranty than any other garden goals
Longer lasting white goal nets – U.V. stabilised
       
Garden Goal 8×4 Multi surface
The 8'x4′ Garden Goal – Multi surface can be used on grass and other playing surfaces such as tarmac or artificial grass as multi surface anchors are supplied.
A top quality children's goal "Made in Sheffield"  the home of football that is easy to install and fully guaranteed. Strong reinforced goalpost corner brackets with lockable net supports. Length of goalpost run back 103cm.
Itsa Goal Posts manufacture and supply the best Affordable Garden Goals
Garden Goal Specification

Specification

Goal Dimensions
Goal Size (Length x height) – 8ft x 4ft / 2.44m x 1.22m
Bottom Runback length 1.5m
Top net support run back length 0.5m

Goal Materials
Top Quality white net – Reinforced edges
Goal Size (Length x height) – 8ft x 4ft / 2.44m x 1.22

Goalpost advantages
Multi-surface ground anchors and pegs
Reinforced goalpost corner brackets
Made in the UK – British Manufacturers ITSA GOAL
Established Company – Est. 1989 – The inventors of the first portable goals circa 1989
Proper roof to the net, includes a net support (allows scoring under the crossbar, just like in a
professional goal)
Extended Guarantee

8×4 Garden Goalpost Assembly Instructions
Click to download a copy of the 8×4 footie goal match fitting instructions
Garden Goals – Goalpost Reviews

Garden Goal 8×4 – Customer Goalpost Reviews

 Reviewer: Mr Lee Silcock –  2018 – U
Ordered  8 x 4 match goals for my 5-year-old's birthday. He absolutely loves them. Really easy to put together and very well made. Super fast delivery can't fault them. Thanks

Reviewer: M Dillon-  UK

I must say I'm really impressed with this goal it's easy to assemble easy to move and solid when built I would recommend this item to my work as I work at a special school for autistic kids as even they could assemble this using your handy YouTube video pls send me a catalog so I can use you in the future as I am the head lead for p.e. at this school. Thanks again


Click on the link to view more garden goal reviews  Football Goalpost Reviews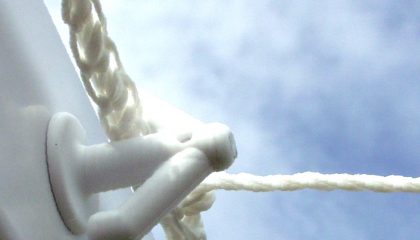 Easy to use, easy to fit, safe Arrowhead Net fixings.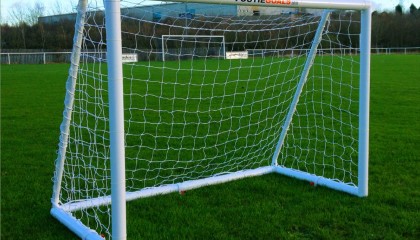 The ideal starter goal, strong sturdy, totally weatherproof and will take dad's shots.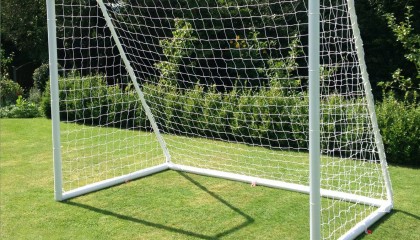 Strong reinforced Garden goal posts - the ideal 5v5 garden goals with extended guarantees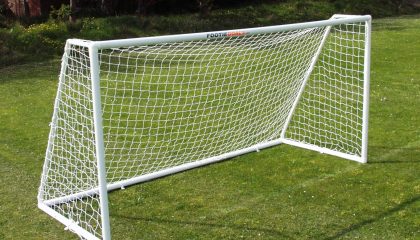 FA official size match standard 7 a side goals that conform to BS EN 16579:2018 which replaces 8462:2005+A2:2012.