6'x4′ Garden Goal – Multi surface
Garden Goal 6'X4′
The Multi-surface 6'x4′ Garden Goal is one of the best selling garden football goals in the U.K and can help keep your budding soccer star healthy and fit. Manufactured in environmentally friendly high impact PVC tube with a top quality thicker longer lasting white net. This football goal is made for the gardens of the discerning buyer who only want the best for their children.
This push together goalpost offers a cost effective and longer lasting alternative to flimsy Far East toy goals. The goal has rear net supports secured to the posts with nets neatly attached and not pulled under the posts to fray along the ground. Other plastic goals just push net supports into holes unlocked allowing them to pop out every time a football hits them or the goal is moved. Length of goalpost run back 103cm.
This garden football goal is engineered to last and will outperform the rest by a country mile. Goal posts from first and the oldest plastic goalpost manufacturer in the world, copied but never bettered. Competitively priced, longer lasting, easy to install, safe and sturdy.  You will not be disappointed with this garden goal we guarantee it!
For the best on line prices for the garden goals 6'x4′  visit our goalpost shop
6 x 4 Garden Goal Specification

Goal Dimensions
Goal Size (Length x height) – 6ft x 4ft (1.82m x 1.2m)
Bottom Runback length   1m
Top net support run back length  0.35m

Goal Materials
Top Quality white net – Reinforced Braided edges
2.5mm UV stabilised HDPE net supplied with every goal
100 x 100mm square mesh net – more net than goals with larger mesh

Goalpost advantages
Multi-surface ground anchors and pegs
300% stronger – Reinforced goalpost corner brackets
Made in the UK – British Manufacturers ITSA GOAL Established Company
Totally weatherproof
Can be easily transported or stored
Extended Guarantee

6×4 Garden Goalpost Assembly Instructions
6×4 goalpost assembly – To view a copy of the goalpost fitting instructions click here.
Football Goal Post Reviews

6×4 PVC Goal Post Reviews

 Goalpost reviewer: MRS JAYNE TEBB – NAIRN, SCOTLAND
We received the 6X4 goals and my two sons and all their friends have had great fun with the goals so far….. I have never seen my garden so busy!

 Goalpost reviewer: MR N S HANCOCK -UK
I looked at cheaper goalposts available from the usual high street names, but after reading poor reviews I decided to look for a sturdier option and found these. My 9 year old soon loves this goal that I bought as a birthday present – it looks like a real goalpost and behaves like one. It's strong in terms of the construction and the netting and is relatively easy to put together – lay all the bits out on the grass first! It doesn't budge when the ball hits the post or the back of the net thanks to the anchors and pegs included. It's also good to know that spares and extensions are available as part of a "system". Worth the extra outlay in the long run.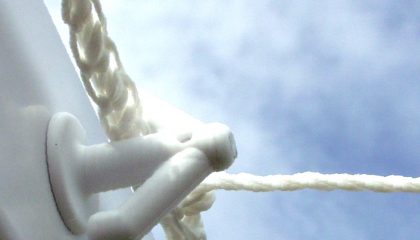 Easy to use, easy to fit, safe Arrowhead Net fixings.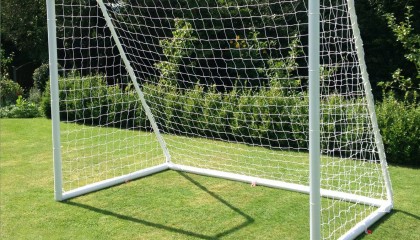 Strong reinforced Garden goal posts - the ideal 5v5 garden goals with extended guarantees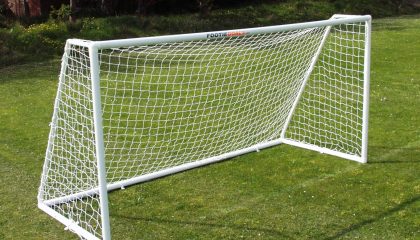 FA official size match standard 7 a side goals that conform to BS EN 16579:2018 which replaces 8462:2005+A2:2012.