Spectator barrier – lightweight uPVC post and rail system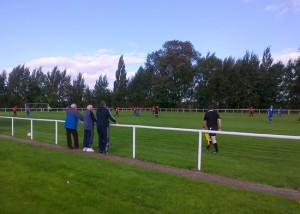 Spectator Barrier
An affordable and safe post and rail spectator barrier system available. A spectator barrier system that is quick to install and one that can be removed in the close season for easier cutting of grass.The uPVC posts and rails are secured by strong polypropylene " T brackets" with push and lock buttons. Two systems are available, one for fixed position posts that fit into ground sockets and one that has posts which slot over special ground spikes. Both systems are quick and easy to level on the undulating ground. The spectator barrier can also combine both types and is ideal when football pitches adjoin cricket pitches.The spectator barrier can be left in position during the season or it can be made to be taken down after each game.

The system can also accommodate lightweight aluminium posts and rails in specific areas of the pitch where slightly stronger rails are required. The uPVC spectator barrier is much safer than steel spectator barriers, it is rust proof, requires no painting and  needs very little maintenance.

To attain an up to date estimate  for your proposed site email  john@itsagoal.net   with the length and width of your pitch and a postcode of the site and we will send a  detailed estimate of the costs and the installation by return
Your club name, various messages and warnings can be added to the rails. Messages we use on our own sports ground spectator barrier are shown below. Advertising boards can also be fitted below the rails or roll up plastic banners can be attached with bungee ties between the posts.
The price is based on a fully surrounded pitch barrier size -105m x 75m. The price includes V.A.T.
uPVC Football Pitch Spectator Barrier Reviews

Football Spectator PVC Barrier Reviews

 MR TOKELY, UNITED KINGDOM
FOOTBALL PITCH PVC BARRIER "We have had the whole of our football pitch cordoned with your uPVC post & rail system for over five years now, and this is the first time we have had to replace any of it. We as a club have absolutely no problem recommending the spectator barrier plastic post and rail. We were, at first, very dubious as to how long it would last, how often we would need to replace parts, and more importantly how safe and pleasingly visual on the eye it would be. Frankly it ticks all the boxes above, because although initially it was reasonably expensive, it has cost us very little since, in fact the only reason we do need to replace some of the posts is due to damage caused at the base with a grass strimmer. This has now been easily prevented by having metal cuffs placed at the base of the post. As for safety, the system is perfectly safe and quite springy when players collide into It. The posts and rails ,unlike steel and concrete versions, do not injure players. The main thing we like is that it deters supporters from going onto the pitch and has the added big bonus of being visually perfect." April 2010
TO SHOW RESPECT TO THE REFEREE & HIS DECISIONS    
PLEASE REFRAIN FROM SWEARING & USING ABUSIVE LANGUAGE
ABUSIVE & THREATENING BEHAVIOR IS NOT TOLERATED AT THIS CLUB
PLEASE DO NOT ENCROACH ONTO THE PLAYING AREA  
SPORTSMANSHIP IS THE BEST WAY TO EARN RESPECT  
PLEASE PUT YOUR LITTER & PLASTIC BOTTLES IN THE BINS PROVIDED
NO DOGS  ALLOWED IN THE  SPORTS GROUND
PLEASE REMOVE SOCK TAPE FROM THE PLAYING SURFACE & PLACE IN LITTER BINS