Plastic Stanchion Tubes for Plastic Goals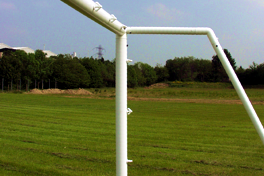 Plastic Stanchion Tubes for plastic goals Made in uPVC 40mm outside diameter tube. These tubes are manufactured  for uPVC Itsa Goal branded goals and connect into the Itsa Goal Posts elbow connector and lower back stanchion supports.  For more information please check out the fitting instructions on the following link click here. The back stanchion tubes are the sloping tubes that support the back the the net. These tubes are made in a stronger/larger tube wall thickness and do not bend and crease as seen on other makes of goals.
Available in different sizes to suit different plastic goal posts.
The best on-line  price for this goal post is currently at www.soccertackle.com
Sloping Back Stanchion – 1265mm long
Sloping Back Stanchion – 1896mm long
Sloping Back Stanchion 2232mm long
Football Goal Post Reviews