Mobile football pitch – Low Level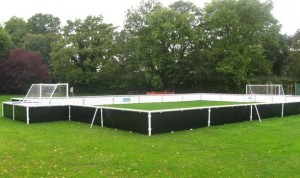 Mobile football pitch and multi-use games area designed for permanent locations or for mobile installation.
The Portable football pitch is manufactured in a combination of  two and three meter sections that can be supplied to make up to any size of pitch. When assembled  the rebound side  boards retain the activity inside a designated area.that be used for football and other sporting activities. The MINI SOCCER ARENA is ideal for small sided football matches. The Sports Arena is ideal for use at special sports events where the activity needs to be in a controlled area.
Spiked systems  for use on grass or free standing systems for use on hard standing areas are available with optional  spectator walkways. A lightweight yet strong football pitch enclosure that is constructed from a 70mm diameter aluminium tube and special lightweight polypropylene panelling that has a softer noise impact than metal rebound boards .The individual sections are lightweight, easy to carry ,easy to use and quick to install and dismantle.
The aluminium section supporting the rebound boards locks into a "T" connector to support the top rails and the net support poles above. The play area accepts any of our aluminum ITSA Goal Posts that can be an integral part of the frame as shown on the diagram or can be manufactured to create an opening for the goal to slide into. The Arena can be used on grass with a unique ground anchor or it can be used with artificial grass or rigid clip together with tactile which are ideal if on line skating is to be played as well as football.
The Arena rebound boards slide into each section support and are then bolted for added strength. The system allows for the Arena to be dismantled completely into tubes and boards for long term storage or left intact. If a trailer is purchased with the arena the parts can be built up and stored inside the unit ready for use or a special crate can be made to transport the Arena around.
This surround net is easy to fit and is supplied in manageable sections. A net support system is also available to retain footballs and protect spectators.The weight of the net is fully supported and hung square due to the innovative design. feature only found on ITSA Goal arenas.Surround nets lift on and off with ease and they are fully secured at the top around the full perimeter of the enclosure which extends the life of the netting. As the arena has top rails it enables basket ball hoops to be fitted at each end making the area more adaptable for other sports other than just football. The Arena sides have unobtrusive support legs that are attached to the upright supports. Any of our goals can be supplied however we recommend our one section 70mm aluminum goals which can be installed in under a minute. The goal posts and nets if required can be neatly packed away after use into a strong secure carry bag.
We offer an optional spectator standing area to locate around the outer perimeter of the Arena which when laid covers the supports .Spectators on the decking also help support the counterbalance action when the football pitch is in use.The surround is especially useful in wet and muddy conditions. A full and detailed exploded diagram is supplied to make installation easy for anyone. Three different types of flooring can be supplied for use with the Arena:- Rigid strong non slip tactiles, soft EVA jigsaw type tiles with artificial turf tops or Sports field artificial turf in 4M wide rolls.
For up to date prices and to discuss your requirements contact John Wilson on 07974745768 or email John@itsagoal.net.
To purchase this product please visit our online football equipment supplier – www.soccertackle.com