Goalpost Net support – Aluminium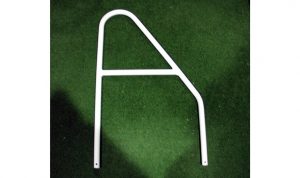 Goal post net support  'D' shaped in rustproof aluminium for use with ITSA GOAL aluminium socketed goalposts.
These are designed to make it easy to remove the goalpost supports after the match so as to prevent vandalism.
The goalpost net support can be used on 24'x8′ full size goal posts  and youth goals. These are not required if you use steel net support poles in conjunction with box shaped nets.
In order to meet the goal post safety standard and in accordance with law one of the game, nets must be supported at the top to allow the ball into the goal under the crossbar without obstruction.
Available from our online supplier soccertackle.com – click here fro more information