GoalBall International Goal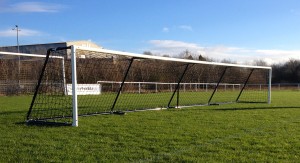 Goalball International Goal
The recommended Goalball posts for international matches. Goalball post Size 9M x 1.3M internal dimensions (Follows International Blind Sport Federation (IBSA) regulations).
The goalposts are made in 80mm lightweight yet strong aluminium extrusion with unique quick fit recessed rear net fitting system with 68mm ground frame. The goals have fully welded rear support frames to hold the crossbar straight over the full length of the goal. The rear of the goal is painted black which makes it easier to identify the parts when assembling the goalposts. They have an optional wooden crate to store two goals (a pitch) or carry bags to store individual goals at additional cost. We can supply foam post protectors however these reduce the internal dimensions of the posts and do not allow a true rebound of the ball. Foam protectors will need to be removed and the playing facility and equipment need to be sanctioned by the ( IBSA) for International matches. The International Goalball is slightly heavier than the standard 68mm and lightweight 40mm training goals yet is just as easy to install.
Goalball includes all net fixings and a quality long lasting black goal net. (other colours are available). These are bespoke items and are not in stock but made to order. Please refer to delivery information before ordering. The Goalball can be secured in position with wall ties or counterbalance weights. We recommend steel counter balance weights be used as they can be inserted into the rear ground frame to stabilize the goal frame and prevent movement.
For the latest price on this football goal post visit our recommended online supplier