Goal Spare Parts – Ground Pegs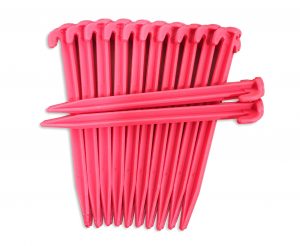 GOAL SPARE PARTS – GROUND PEGS – DURABLE RED NYLON GROUND ANCHORS FOR SECURELY ANCHORING FOOTBALL GOAL NETS IN PLACE.
Strong easy to use ground pegs that can be inserted at an angle in the ground to anchor football goal nets before matches. Totally weatherproof and will  not rot and are visible to will not be left on football pitches creating a safety issue and damaging grass cutting equipment. These strong nylon ground pegs can be used to anchor a variety of sports netting into the ground and they are also useful for tethering. Sold in packs of 25, these pegs are 200mm long and provide an excellent solution for pegging nets down to the rear of goalposts. Larger pegs with a longer length are also available for very soft ground. See related images below
THE ADVANTAGES OF RED NYLON PEGS OVER METAL PEGS AND  U GROUND PEGS
Most Football Pitch Groundsmen will have experienced the problem of the metal net pegs and  U shaped pegs and the damage that these types of metal pegs can do to expensive grass cutting equipment. The metal pegs are easily left of the football pitch as they are hard to see and this then will damage grass cutting equipment.  In contrast out red nylon safety ground pegs are very visible and can be picked up and stored without damaging equipment.
SAFETY
The Metal type U ground pegs and metal pegs are tempting for children to throw into the ground, this is a safety issue and the Red Safety Pegs prevent this type of possible safety hazard. Prevention is better than the Cure.
For prices and to purchase our football goal ground pegs visit  www.soccertackle.com
Goal Spare Parts – Ground Pegs