Goal post lockable ground socket cap for oval stadium aluminium goalpost- HEAVY DUTY VERSION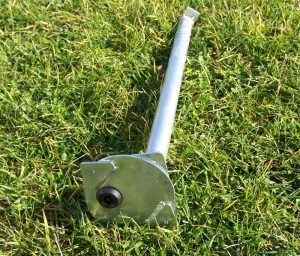 HEAVY DUTY EXTRA STRONG VERSION .
A single ground socket cap for use with the ITSA GOAL stadium socketed Oval goalpost. These have a solid bar welded inside behind the cap that sits to the ground base providing an extra solid cap that helps to prevent vandals trying to damage caps
These are the best and easiest to use ground socket caps of any aluminum socked goalposts. They are flush to allow grass cutting equipment to travel over the socket with out damaging the equipment. The ground sockets allow easy cleaning out of rubble.  The standard Quarter turn lock mechanism is included in the price.
For the best prices and to buy online visit soccertackle.com click here.