Goal Post Corner bracket spigots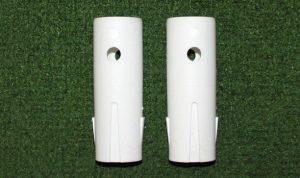 Goal Post Corner bracket spigots
These Goal Post Corner bracket spigots are  inserted into the Corner Bracket on the ITSA GOAL uPVC goal'.
Once locked in place  they stay firmly connected and allow the rear net support stanchions to be secured to the goal posts. (Unlike others that just push into a hole).
The registered designed goal fitting is unique to the ITSA GOAL range of uPVC goal posts.  The goal is designed in such a way  that if any damage happens it is likely to occur to this part which is easy to replace, in expensive in comparison to spare parts on other uPVC goal posts and can be with customers within 24 Hours.
Breakages are still rare even with this part as we have few problems and that is why we give longer guarantees than other suppliers. It is very rare for us to replace any of parts under guarantee as practically every incident is due to  bad weather conditions.
For the best online prices for goal spares visit  www.soccertackle.com