Goal post corner bracket Nylon spigots – for Flat Pack Aluminium Goals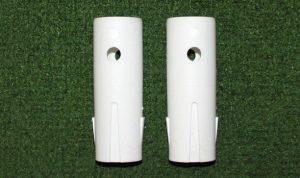 These goal post Nylon corner spigots are inserted into the Corner Bracket on the ITSA GOAL FLAT PACK range of aluminium goalposts.  The Nylon fixings provide long lasting industrial strength. Once locked in place they stay connected and allow the rear net support stanchions to be secured to the goal posts.
The registered designed goal fitting is unique to the ITSA GOAL range of uPVC goal posts.
Please note we also provide a more economical polypropylene version for use with our plastic goalpost range.