Gaelic Goal Posts 12'x6′ (3.66 x 1.8m) with 8ft upright top posts (2 section version)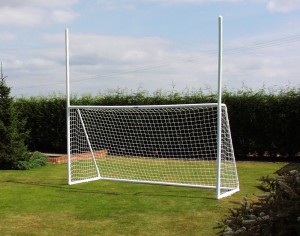 The Gaelic goal posts are manufactured in U.V. stabilized uPVC. The corner brackets are specially strengthened, reinforced polypropylene.
The Gaelic goal posts made by ITSA GOAL are free standing so can be used on any surface, they are rustproof and virtually maintenance free. High impact uPVC is lightweight and much safer with children compared to heavy steel. The Gaelic goals can be used for Mini Rugby, Mini-Soccer & Gaelic Football.
One goal includes :
Quality Net -100mm mesh size – 2.5mm twine
Patented Arrow head net fixings
Net ties and ground frame net fixings
Multi surface Ground Anchors
Guarantee
VAT
To purchase this Gaelic goal visit our online goal supplier www.soccertackle.com