Fixed sided freestanding goalpost for 9v9 Junior Football 16 x 7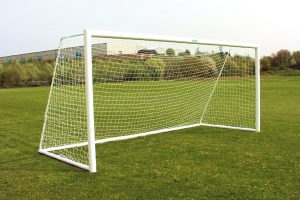 Fixed sided freestanding goalpost for 9v9 Junior Football 16 x 7
Fixed sided freestanding goalpost for 9v9 Junior Football 16 x 7 include fully welded side frame that are much faster to assembly than any other type of freestanding goalpost. They include solid aluminium rear supports and they do not rust like goals with heavier non-weatherproof steel net supports. Goalposts relying totally on bolts to hold them together inevitably due to being moved around become unstable and require frequent tightening. When our fully welded fixed sided frames are locked in place they require no time-consuming maintenance and with a total aluminium frame, the goals will not rust. This fixed welded sided locked goal post is a unique goalpost design to our company and provides a safer lighter goal that does not compromise on strength and improves safety. Those that change to our fast locking welded goals never go back to self-assembly nut and bolt goals.
The Football Association recommended goal for 9v9 junior football and with wheel options the goal can be moved around by one or two people with ease. The safest 16'x7' oval aluminium goal available. Optional front wheel transporters for heavy grass pitches and 360 degree or rear roller goal wheels are also available for artificial surfaces. These football goalposts offer customers a longer-lasting product with a greater warranty as a direct result of better goalpost product design.  The best quality braided goal nets are provided with each goal.
This 9v9 football goal is made to the latest safety standard BS EN 16579:2018 and conforms fully to FIFA Law one of the game .(click here for more goalpost safety information)
Fixed sided freestanding goalpost for 9v9 Junior Football 16 x 7 SPECIFICATION:
Fixed welded sided lockable freestanding goal. Elliptical posts 120mm x 100mm
Goalpost size 16ft x 7ft  – 4.9m x 2.1m
Football Goalpost frame bottom runback : 213cm (84in)
Football Goalpost top runback: 90cm (36in)
Painted professional powder coated paint finish in white as required by the laws of the game.
Patented unique ITSA GOAL locking system that requires no nuts or bolts
Strong Twist & lock goal net fixings.
Football Goal nets and fittings are all UV protected.
Fully aluminium painted frame totally weatherproof
Multi-surface anchors included
FIXED SIDED FREESTANDING 16X7 GOALPOST FITTING INSTRUCTIONS
Click here to download
ADDITIONAL GOALPOST RECOMMENDATIONS
We do not recommend or supply lever type wheels slotted into the extrusion groove on goalpost side frames as they eventually buckle and make the goals impossible to move and unsafe to use. Many of these wheels are positioned too near the front of the goal and most have finger hand and foot entrapment areas that do not conform to the new goalpost safety standard. Unlike other integral weighted football goals with lever or rear wheel and roller systems that can entangle nets, these will not damage or rut the playing surface as the counter balance weights can be easily removed enabling the goalpost to be moved independently of the weights. Try one of these football goals against any other free-standing goal and you will see how much lighter, stronger and easier they are to use. We offer different wheel systems to suit all types of playing surface. It is advisable to contact us so we can help you decide on which type of wheel would be best for your location.
UP TO DATE GOAL POST SAFETY STANDARDS for Fixed sided freestanding goalpost for 9v9 Junior Football 16 x 7
To conform to the current safety standards rear counterbalance weight on a freestanding goal there should be at least 112 kilos. Please note: water in the rear ground frame does not offer enough weight to conform. The current goal post safety standard for full size adult goals is BS EN 748:2013. All other goalpost sizes, including rugby posts are included in BS EN 16579:2018.  BS EN 8462 was withdrawn in 2016 and should not be used.
We would also suggest that those building and assembling nut & bolt goals are insured as they are actually making and putting together the goalpost and not the manufacturer. In the event of any accident with such goals, volunteers need to be protected by the buyer, club or organisation using the goals.
OPTIONAL EXTRAS:
Counterbalance weights
various wheel systems and dollies
Wheel Transporters – A registered Design – 5000197 5000198 5000199
A Superior British product  Made in Sheffield, easy and safe to use, competitively priced and with an unmatched manufacturers warranty.
The best online goalpost price.
Goalposts, 16×7 Goals – Customer Reviews

For  Football Goalpost Reviews

16 x 7 Aluminium freestanding Goals

The delivery cost was a little more than a flat pack type of self-assembly boxed goal however when the goal arrived we quickly slotted the sides together and locked the crossbars and back bars on, fitted the nets in the aluminum goalposts and we were ready to use the goals in about 20 minutes, well worth the saving in time. Goal review by: Mr Roberts – UK