Aluminium Freestanding Youth Goal 21×7 – Elliptical Aluminium
Aluminum Freestanding Youth Goal 21 x 7 – Moveable Portable Goal
The Aluminium Freestanding Youth Goal 21 x 7 conforms to the latest goalpost safety standard BS EN 16579:2018 – GOALPOST SAFETY STANDARD
The facts of fully welded lockable ITSA GOAL posts compared to self-build flat pack goals from other manufacturers.
No steel goalpost brackets, bolts or rear net support frames to rust
Goals more secure only accessible to key holders
Lighter frames that are safer
Stronger extrusions – elliptical not round
Crossbars available in single length sections
Goalpost strength tests to 1800 Newtons result available online
Fully welded sturdier side goalpost frames prevent sideways movement
Initial build under ten minutes compared to four hours with self-build
Easier neater & quicker goalpost net fitting
Faster disassembly for close season storage
Multiple wheel options to suit different locations
Wheels that do not buckle – common on every other moveable goal
Years of use in the field with no negative feedback
A patented system – expansion and contraction problems eliminated Maintenance reduced – no need to constantly check and tighten bolts.
Multi-surface goalpost  anchors included with every football goal
More adaptable goalpost counter balance systems – With fixed weight
Disadvantages
Slightly More expensive to ship single section crossbars
The Aluminium Freestanding Youth Goal 21 x 7 ia a strong lightweight free-standing movable professional youth football goal. Each goal post goal has fully welded side frames, that do not work apart in use in the same way un-welded self-build goalpost do. The goalpost is easy to move and can be fitted with transporter wheels fitted under the uprights, dollies or optional rear roller wheels are also available.  So much easier than other systems that have wheels that very quickly buckle over. The goal post frame can be quickly dismantled in the close season for storage. Ankle hand and finger entrapment is totally eradicated on these patented lockable goalposts. Controlled by a key holder the goal post is easy to move into position and anchor. Goal nets can be removed or left attached to the frame when stored. Recessed net fixings enable goal nets to be attached quickly and neatly to the rear of posts.
The Aluminium Freestanding Youth Goal 21 x 7 has a fully welded aluminium construction, no nuts and bolts to constantly tighten or steel stanchions or brackets to rust. Included are long lasting white nets, unique new net fixings, and multi-surface anchors. The goal frame, unlike other goal posts, does not damage artificial grass and has an optional counterbalance system that can be used integrally (hidden away) or used externally over the rear ground frame.
Fitting Instructions for the Aluminium Freestanding Youth Goal 21 x 7 – Click to download and view a copy.
This is not a flat pack self build goal.  A GOALPOST THAT WORKS – NOT A GOALPOST THAT MAKES WORK!
The price shown includes VAT at the current rate.
The best online price for this Football Goal 21×7 is currently at www.soccertackle.com.
Football Goalposts, 21×7 Goals – Customer Reviews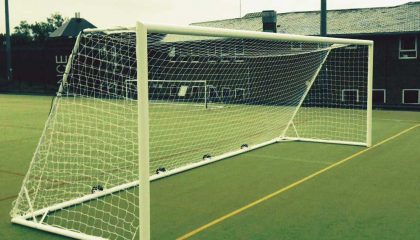 Rollaway goal posts designed for use on grass surfaces.
The only aluminium portable youth 21'x7' goal that packs in a bag.
Professional Foldaway aluminium youth goalpost