Stadium Goal Post – Box Shaped Net – Single Net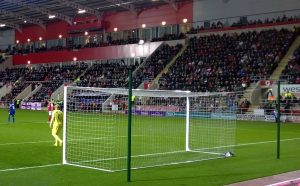 STADIUM GOAL POST BOX SHAPED NET – SINGLE NET
UEFA Regulation white Box net – Goal Size 7.32m x 2.44m – 24′ x 8′
Top & bottom run back 1.8m – Long lasting professional net in quality braided U.V. stabilised twine.
Stadium Goal Post – Box Shaped Net – manufactured in high-density polyethylene knotted cord for durability. Highly durable braided edge cord and net head cord to hold the roof of the net aloft. The net is manufactured knotted to allow repair unlike some other machine-made type of nets. This product can also be machine washed for that whiter than white match day effect. This product surpasses all BSEN entrapment legislation requirements and conforms to BSEN 748, making it suitable for match play and league use. The net yarn is tested to a breaking strength in accordance with EN ISO2062.
A straight box-shaped net is created by applying tension and pulling the net back onto the net support pole.  The 'sag' of the net is determined by the amount of tension applied when tieing the net back, it is not the net itself.  The box net is designed to withstand maximum tension. Please see the separate net support poles so the nets can be professionally tensioned.  This box net can peg into the ground with optional ground pegs or alternatively can be used with hinged side net retainers, see the related products below or contact the goal line for more information 0114 243 2400
For the best online prices for our  stadium box nets visit  www.soccertackle.com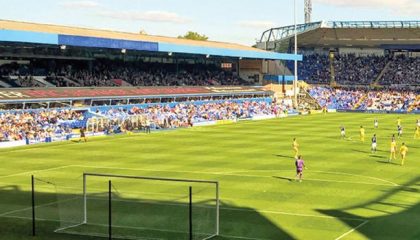 Aluminium Stadium Goal Posts - patented and lockable.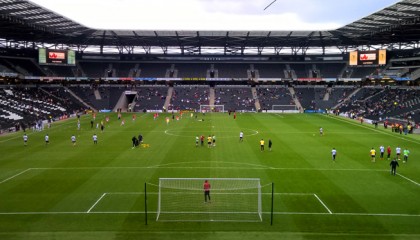 Fully welded corners, secure if left assembled and also quick releasing if goals need removing.