Spectator Crowd Barrier – chain link version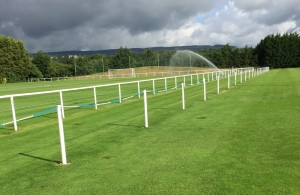 A good quality spectator crowd barrier system that will out last other plastic post systems and is more effective than FA respect barriers that use tape and rope. This spectator crowd barrier system made from high impact 68mm uPVC tube with a push on cap and locking base spike. The spectator crowd barrier system is much safer than other barriers that use sharp metal spikes and dangerous pointed pegs. These systems have been responsible for serious injury and the actual death of a youngster at a junior football match. Our company makes detailed risk assessments on all products we sell to children and that is why we refuse to sell such products with sharp points to junior football clubs. This system is safe and is practically maintenance free. A low-cost option that will last and last unlike other thinner post systems that use tape/rope and end up in a landfill.   Quick to set up the plastic chain link is a professional looking spectator barrier and will last as long as you want it to. Unlike other less expensive systems, this one is safer and you only need to buy once. Not only will these posts out last other plastic posts they are much more effective in high winds when FA respect barriers with tape blow all over the place.Spare parts are available to ensure you have a safe better-looking pitch spectator crowd barrier at your club.
We offer various versions as shown below
The prices shown are per item. If you would like an estimate for a particular pitch size or length of respect barrier email jonpaul@itsagoal.net
CLICK HERE TO DOWNLOAD THE RESPECT CROWD BARRIER LEAFLET  
Please visit our online supplier for prices and more information www.soccertackle.com
Click here to view the Respect Barrier Chain Link fitting instructions
Spectator Barrier Chain Link Reviews
 MR  JOHN CROOT, DINNINGTON, SOUTH YORKSHIRE UK – 01/03/2013
We were looking to improve our Respect Barriers, which again we have to date used the Football Foundation approved sets which have not lasted very well for the investment we made and are flimsy at best". The new ITSA GOAL respect barrier has been a great success in being quick to install, a proper barrier looking very good in our team colours and is as good today as the start of the season. It uses a combination of PVC posts spaced approx 5m apart, with yellow & black plastic chain to form the barrier itself".