Rugby Post for Training – Lightweight Aluminium- Socketed 8m x 5.6m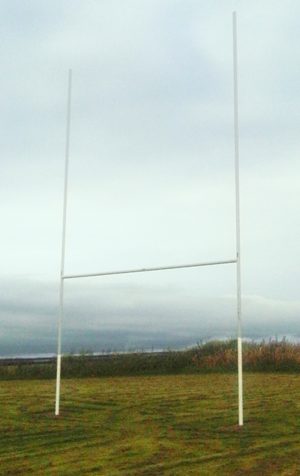 Portable Rugby Post for Training
Lightweight strong aluminium Rugby Post that fit into excavated ground sockets.  The posts are made in 80mmOD aluminium allowing the posts to be dismantled after games for storage if required.
The Rugby posts are weatherproof are lighter than any other equivalent rugby goals have they have been tested to enable them to be left out in the strong winds.
The rugby post crossbar height is three meters and the total height is 8m; the rugby post is 5.6m wide. These are the ideal training rugby posts as they can be taken down in the close season which makes cutting grass much easier..
The price is for one Rugby post including ground anchors. Code 1716
The size of Rugby Post is also available in a portable version with metal removable anchors click here for more information.
Youth Rugby Posts – Customer Reviews

Reviewer:
"Excellent Rugby Posts."