Pitch Barriers made in Aluminium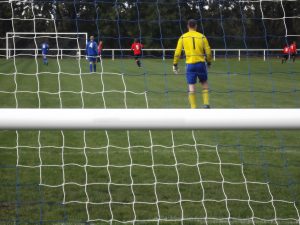 Pitch Barriers made in Aluminium
We manufacture Pitch Barriers made in Aluminium for either permanent concreting or removable.  Manufactured in strong 70mm OD aluminum that is totally weatherproof and will not rust. The aluminium can be supplied powder coated white or in aluminium mill finish. Aluminium is lightweight yet strong and will reduce the need to repaint the barrier. This Barrier design is made to be removable or it can be permanently concreted in position. The barrier's main components include  5.2m fully welded rail on post sections that connect with smaller sections to finish the ends and allows any size pitch to be supplied. The 5.2m aluminium pitch barrier section with three welded uprights is shown in a diagram below with accurate dimensions.The pitch barrier can be supplied with mesh infill panels made in steel or without mesh panels.
Please note the aluminium Pitch Barrier although rigorously tested it is not designed to be a load-bearing system; it is primarily a perimeter fencing system. The system is more suitable for secure sites. We would recommend steel barriers for more exposed pitches.
To attain an up to date estimate  for your proposed site email  john@itsagoal.net   with the length and width of your pitch and a postcode of the site and we will send a  detailed estimate of the costs and the installation by return
The price is based on a fully surrounded pitch barrier size -105m x 75m. The price includes V.A.T. Price excludes mesh panels.

The shows an option to end a linear length of the pitch barrier
The Corners of the Pitch Barrier can be arranged in various ways
Pitch Barrier made in Aluminium Reviews