Junior Rugby Goal Post – high impact uPVC – Total height 4.72m x 2.7m wide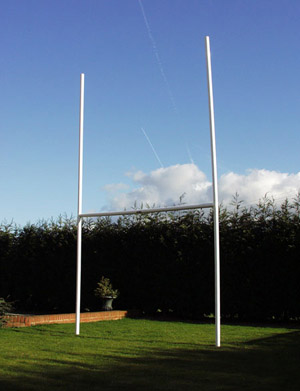 Junior Rugby Goal Posts – high impact uPVC
ITSA Goal safe portable lightweight Junior Rugby Goal Posts are made from strengthened high impact uPVC and have an adjustable crossbar that can be raised to a higher position from the ground as children grow.
These junior rugby goal posts will not rust and have been rigorously tested. Special ground anchors hold the rugby post uprights in place without any digging which means the turf is not disturbed in any way. The junior rugby goal is easy to install and dismantle and can be safely erected by children. These junior rugby posts Allow children the realism when playing rugby at a young age. Drop kicking over rugby post crossbars is an important skill young children need to master and these junior rugby posts offer the realism they need. These are the ideal posts, they look the part and outperform any similar plastic rugby post.
The crossbar height can be raised, using the sections of posts supplied, from 1.8m  to 2.2m to full adult height 3.7m. The overall height of the post is 4.7m ( 16′).  Two sets of posts will fit into our medium size carry bag.
Rugby Post Carry bags are available optional.
"Give them the dream " to play one day at Twickenham, Murryfield,The Millennium Stadium & Landsdown Road
This particular junior rugby goal post is the preferred choice of rugby coaches and are used at numerous organisations that introduce young children to the game of rugby. This lightweight rugby post is also the first choice for children who like to play rugby in the garden at home. ITSA Goal posts are better by design they are without a doubt the best brand of goal posts money can buy.
Click here to read the easy to use rugby post fitting instructions
The best on line price for mini rugby posts.
Rugby Posts – Customer Reviews

Reviewer: Stow on the Wold & District R.U.F.C.
"We compared other posts, yours were better designed, stronger, the crossbar fitted easier and definitely better value."