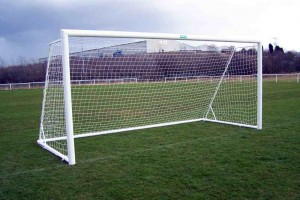 GOALPOST NET 16'x7′ – REPLACEMNET NET

Goal Net Size 16′ x 7′ – 4.8m x 2.1mm
Braided cord, U.V. stabilised twine.
PREMIUM GOALPOST NET 16'X7′ FOR ITSA GOAL POSTS
Replacement goalpost net for 9v9 goalposts for the Football Association nine a side junior football concept
16×7 goal nets need to be manufactured to withstand rigorous use and harsh weather. The Replacement Goalpost net 16'x7′  has been manufactured from a dense and strengthened HDPE to create a stronger 3mm twine net that will offer complete protection against weather-related damage. The Goalpost net 16'x7′ premium nets can be easily installed on most other 9v9 goals. The production of the ITSA GOAL replacement Goalpost net 16'x7′ provides a much longer-lasting hardwearing goal net. Manufactured from a the best quality HDPE that will not absorb water or sunlight, this robust UV stabilised net will not deteriorate in varying temperatures.
Goalpost net 16'x7′ – Standard shaped Nets for nets with a sloping back net support and proper roof to the net.
Strengthened polyethylene knotted cord for extra longevity.
Traditional brilliant white Goalpost net 16'x7′
Highly durable braided edge cord and net head cord.
Machine washable & Weather Resistant
Exceeds all BSEN entrapment legislation within BSEN 748 applicable to regulation goal nets
The net yarn is tested to a breaking strength in accordance with the very latest safety standard EN ISO2062.
Contact the goal line for more information 0114 243 2400
For the best online prices for our  FUTSAL GOAL NETS visit  www.soccertackle.com
Goalpost net 16'x7′ Net Reviews