Goalpost Corner Bracket with Spigot and Locking Buttons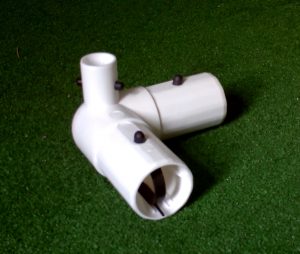 The strongest plastic goalpost corner bracket designed for uPVC for ITSA Goal fully locking plastic goals. The ITSA GOAL plastic goalpost corners are 300% thicker and much stronger than other plastic goal corner brackets available in the UK.
This corner bracket is also used on aluminium demountable flat pack goals with industrial strength black nylon spigots.
PLEASE NOTE :
If your corner bracket spigot has broken inside the corner bracket You can remove it and fit a new one. if you are ordering a new corner bracket you may also require the push in spigot.. See the related product below that you may require with this corner bracket.
If you do not want the complete corner bracket with spigot and locking buttons it is possible to purchase the items individually.
If you need more help please contact our office 0114 2434200.
To buy the corner bracket  visit our online supplier soccertackle.com