Goal Post Transporter for 120x100mm Aluminium Goals
Goal Post Transporter
The only steerable football goal post transporter system that allows freestanding goalposts to be driven into position with the minimum of fuss.The goal post transporter has been designed for use with ITSAGOAL elliptical aluminium freestanding and folding goal posts. They make moving goal posts so much easier and can save time on matchdays setting up and storing goal posts after the game.
See other goal post videos click here –  videos
This video demonstrates how the system works in a football club location. The video shows the Folding elliptical goal post which can be steered around corners and is ideal for locations that have tight access. This goal post transporter will also fit our elliptical freestanding goals allowing them to be steered or pushed forwards or backwards by one person.
When goals are removed from the goal post transporter they must be stored safely and securely against a wall to prevent toppling. Any freestanding goal post over forty-five kilos in weight requires extra care when moving around or storing after use. Two sizes of goal post transporter are available – The smaller transporter is 470mm wide and is recommended for Mini Soccer goals. The larger transporter is 970mm wide and is recommended for larger youth goals and full-size goalposts. The football goal and goalpost transporters are registered designs. 5000197  5000198  5000199 and only fit on goalposts manufactured by Itsa Goal Posts Limited.
Goalpost Wheel Transporter Fitting  Instructions – download a copy
Goal Post Wheel Transporter Instructions 2022
Set includes
Two aluminium weatherproof 'T' frames, Four Non-Puncture Wheels
Set of two is required to move one goal. The wheels can be used on any number of
120mm x 100mm elliptical aluminium goal posts
We also supply Wheel transporters to fit 80mm Folding aluminium goals
Large Goalpost Transporter Wheels to fit 120x100mm folding goals
Smaller Goalpost Transporter Wheels for 80x80mm folding goals
The best on-line  price for this goal post is currently at www.soccertackle.com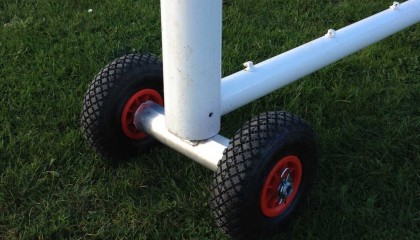 Goal Post wheel Transporters – The only available steerable transporter system for goals – Exclusive to ITSA Goal These goal wheel transporters are designed for ITSAGOAL elliptical aluminium freestanding and folding aluminium goal posts only. Faster and easier to use.