Goal Post Corner Bracket for uPVC Goals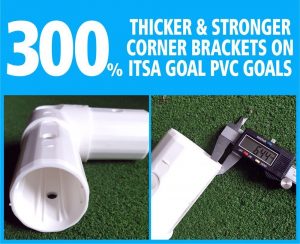 Goal Post Corner Bracket for uPVC Goals are designed for use with the ITSAGOAL  & FOOTIEGOAL  uPVC goals.
A unique corner bracket design when compares to the other plastic goalposts available. It is 300% thicker and much stronger than other plastic goal corner brackets which is why we offer a much longer three years guarantee on ITSAGOAL products.  The ITSA GOAL Goal Post Corner Bracket for uPVC Goals is designed to be used with Goals that use a 68mm OD uPVC tube. We use this corner bracket on the following upvc goal sizes – 4'x3′, 6'x4′, 8'x4′, 8'x6′ 12'x6′ futsal goal sizes, 16'x7′ goal sizes. This replacement goal corner bracket is the strongest goalpost corner bracket that can fit onto any 68mm plastic tube.
The goal corner bracket spigot is sold separately – click here to view. The locking buttons used on the corner brackets are also sold separately if required. The Large locking buttons are used on corners  – click here to view. The smaller locking button is used on the spigot – click here to view
If you need more help please contact the office. You can also buy a corner bracket with spigot and locking buttons complete click here to view.
Goal Post Corner Bracket for uPVC Goals & Safety
All our football goalpost components are safe for use in football matches and exceed the current goalpost safety standards BS EN 16579:2018.
PLEASE NOTE :
If your corner bracket spigot has broken inside the corner bracket You can remove it and fit a new one. if you are ordering a new corner bracket you may also require the the push in spigot. A video showing how to remove and insert spigots into the corner brackets is available. See the related product below that you may require with this corner bracket.
The price includes the 90-degree corner bracket, (the spigot and buttons are optional see related products below) The price is for one corner bracket.
For the best online prices and to buy visit  www.soccertackle.com
Goal Post Corner Bracket for uPVC Goals Product Reviews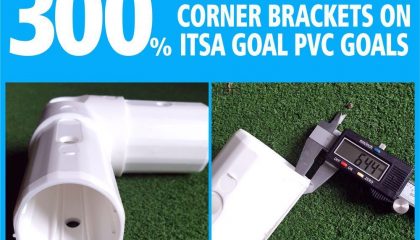 uPVC goal corner bracket without spigot and locking buttons.