Goal net ground pegs in steel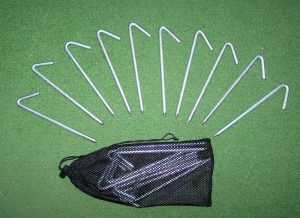 Goal net ground pegs in steel
Electro-plated long lasting steel ground pegs that are ideal to fasten down goal post netting on hard grounds. To buy goal post net pegs visit our online supplier www.soccertackle.com
These are steel bar tube that is formed into a "U" section to knock over football goal ground frames to anchor goals down. These are easier to use on hard grounds. Electroplated to prevent rusting.
We do not recommend them for plastic goals as they can crease and damage the tube. The anchors with safety pegs are a better option.
6″ long – made in 8.5mm OD steel
Pack Quantity: Pack of twenty.