Garden Goalpost size 8×4 – Footie Goal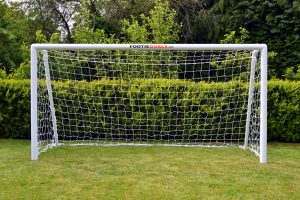 Garden goal post 8'x4′ is one of the easiest goalposts to assemble.  The goalposts have fewer sections and because the crossbar is in one section you achieve a straight crossbar.
The goal post corner brackets are specially strengthened and they do not break. They incorporate a lockable spigot and this design allows a proper roof the goal to be locked in place….do not confuse this goal with cheaper goals that have net support just pushed in holes so when a goal is scored the support comes out.!
Compared to the alternative flimsy Far East products these football goals are a better investment and are "Made in Sheffield" the home of football by the oldest manufacturer in the world of plastic goal posts, (this goal has been on sale now for over three decades).
Length of goalpost run back 103cm.
One of the Fastest Assembly Garden goal posts – 8×4 uPVC Goals
One of the original uPVC Garden goal post designs and still the best. This goal has unique ground anchors to keep the goals firmly anchored in position during play – no digging required.  there is no need for additional ground posts and extra connections along the base.  With fewer posts and goalpost connections, the goals can be assembled much faster.
Strong reinforced goalpost corner brackets with lockable net supports. A safe, sturdy British value for money goal that is easy to use and competitively priced.
The best on-line  price for this goal post is currently at www.soccertackle.com
Football Goal Post Reviews

Garden goal post 8×4 Goal Reviews

 Elizabeth Fanning

Quality Garden goals – We have just bought a goal for my son's birthday and he loves it! It's a fantastic product and the quality is of a very high standard. The staff are very friendly and helpful. I can't recommend them enough.

 MR HOOPER 2010 – UK
Garden Goalpost user – Thanks again the goal is fantastic my son hasn't stopped playing in the garden.
Thank you FIVE STARS ****