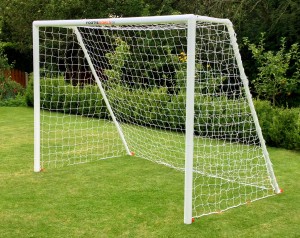 This Garden Goal Post 8'x6′ is made from the same mouldings as the club plastic goalposts but do not have the push in buttons and net fixings that allow nets to be lifted on and off. The goal nets are permanently attached to the rear of the posts with neat net ties.  The garden goal post 8'x6′ when erected looks great.
Manufactured in high impact, heavy duty UV stabilized plastic it has locking rear net supports, a unique ground anchor system that requires no digging and a longer lasting white goal net. Compared to other plastic garden goals with net supports, just pushed in holes, nets pulled around the front of the posts and sagging crossbars these garden goals look better. Length of goalpost run back 153cm. The goalpost corner brackets are 300% stronger than competitors' goalposts which is why we can offer the longest goalpost guarantees.
A better quality garden goal at an affordable price. A superior value for money product that is fully guaranteed, outperforms the rest, is easy to use and is very competitively priced. Garden goals help develop soccer skills and inspire kids to dream of maybe one day scoring a winning goal at Wembley. Have fun and keep fit with this great medium size garden football goal. Give them the dream with FOOTIE GOALS !  You will not be disappointed – we guarantee it !
Garden Goal Post 8'x6′ – Strong Corner Brackets
Strong reinforced garden goal post 8'x6′ corner brackets with lockable net supports.
For the best online prices for our Garden Goal Post 8'x6′ visit our goalpost shop
To view a copy of the goalpost fitting instructions click here.
Football Goal Post Reviews

Garden goal post 8'x6′  – Goalpost Reviews

 MR DENTON – UK
Many thanks for the FOOTIE GOALPOSTS. They are extremely robust and easy to assemble.
I Have had a lot of interest from family and friends over the weekend so you may have a couple more orders very soon

 Andrea Latimer- UK
Hi Andrew,
All arrived today, and so well packaged! Thank you very much indeed, fantastic customer service. I'll have a happy birthday boy!.
Kind regards
Andrea

 MARIA – UK 2016
Thank you so much for your assistance this morning.  it is so rare to receive such excellence customer service! I have recommended you on my FB page, are you on twitter as I will tweet too! Thank you again.

 MR RICHARD HOWLETT – UK 2011
The football goal arrived during Monday and we erected it tonight after work and my son is delighted with it. Top quality A+++.