Gaelic Goal 16'x7′ with 8′ top posts – High Impact uPVC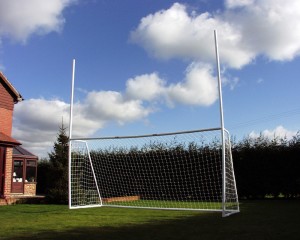 An ideal multi-use Gaelic Goal that is ideal for mini rugby, mini-soccer, and Gaelic football. The Gaelic goals are fully portable, free standing, lightweight and highly flexible. Use on any surface. Virtually maintenance free, lightweight and easy to assemble.
Follows European goal post safety regulations. Multi-surface anchors and patented arrowhead net fixings that enable nets to be neatly fitted to the rear of the posts are also included.
The Gaelic Goal has single section uprights and a two section crossbar so fewer parts make faster goal assembly. The Gaelic Goal includes fully locking buttons and every joint including the net support stanchions.
Please note all 16′ goalposts made in uPVC have a slight dip in the crossbar which can be seen in the photograph, this is an inherent dip due to the material which is why all goals above 16′ are made in aluminium. We do offer an optional 16′ two section version crossbar for a perfectly straight crossbar and this also provides a proper ball rebound. The aluminium crossbar (available separately) attaches to the corner brackets with dome head nuts and bolts for safety.
purchase this product visit our online supplier www.soccertackle.com