Football Goalpost Wheels – for 70mm aluminium dia. goals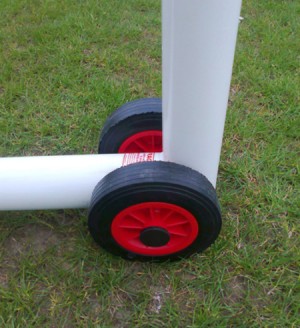 Movable Football Goal wheels
One Set of two wheels and axle to fit to the ground frame on any ITSA GOAL free standing movable aluminum football Goal.  All you need is included to fix to the bottom of goal upright.
This design does not allow the wheels to bend over as do single flip over wheels ..they  stay alined at all times. Two wheels are used either side of the ground frame which spreads the load better to save damage to fine turf surfaces.  Two wheels attachments at the foot of the upright post enables one person to pull the goal around in any direction with ease from the rear ground frame.  It is possible to introduce one set of wheels on each corner for the larger full size and Youth freesatnding football goals, however  we would suggest  goal dollies be used on the heavier oval free standing goalposts.
The wheels slide easily into position and can be retracted when goals are in use. One set can move all your goals so there is no need to buy expensive wheels for every single goal you have. The saving allows consumers to buy better quality football goals rather than buying goals with £350 wheel attachments that only can be used on one football goalpost.  Most  goalpost wheels  are not suitable for outdoor use and that is why they have such a short lifespan .  You can see wheels all over the UK tilted over and missing from goalposts in any leisure center (see pictures) . ITSA GOAL  wheel attachments can be stored inside in your store when not is use which is why  they can outlast any other football goal wheel by years and years.
We have our own sports ground and use football goals all the time…………We make goalposts that work and not goalposts that make work.