Football Goal Dollies – for Moving free-standing goalposts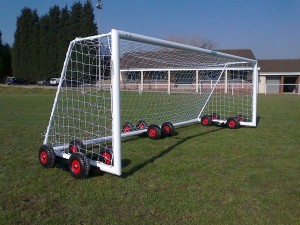 Football Goal Dollies – for Moving free-standing goalposts
A Wheeled transporter to easily move goal posts around muddy sports fields without rutting or damaging turf.
Football Goal Dollie – You need at least two dollies to move goal posts around on your site without the need of expensive wheels on every set of Goal posts. We recommend three sets to move larger adult freestanding goalposts.
ITSA Goal Football Goal Dollie are the easiest way to move large goal posts around sports grounds and stadiums. The photographs show how the wheels can be a lined to move goals sideways as well as forwards and backwards.  The five a side goal shown on the picture does not need any dollies as it is light enough to move without wheels however on large full size elliptical free-standing goalposts they are ideal.
If you have numerous freestanding goalposts to move around dollies can save thousands of pounds and at the same time do the job better.  The clever design allows goals to be moved sideways as well as backwards and forwards. These are particularly useful in stadiums with short run backs to crowd barriers as they allow the goal to move sideways along the side of the pitch unlike fixed wheeled goal posts which can only be moved backwards and forwards. The two photographs show the goal frame positioned on the dollies for  moving in both directions.(see video in "moving the goalposts "section above)
By using two or three dollies the weight of the goal is spread evenly over the whole surface area of the goal frame making moving of any goal easy. The dollie  spreads the load onto four wheels and thus eliminates the possibility of damage to the playing surface.
Numerous freestanding goalposts have flip over wheels on each corner and these do not perform well as they collapse inwards and become entangled with net cord. This type of wheel has a short lifespan due to the fact that they are in the main  left outdoors which ceases up the bearings.
Dollies do the job better, they offer longevity, practicality and offer real value for money compared to the alternative fixed wheel options.
Visit our You tube site to see the wheels in use –  https://www.youtube.com/Footballgoalposts
The best on-line  price for this goal post is currently at www.soccertackle.com