9v9 Goal Post 'Fast Start ' – High Impact PVC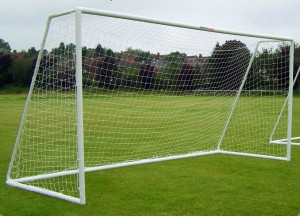 9v9 Goal Post
Fast Start 9v9 Goal Post, these plastic football goals conform to the latest safety standards and includes an extended two-year manufacturer's warranty.* The Football Association recommended size for 9v9 youth football. This match standard multi-surface youth goal is made from high impact uPVC and has a stronger, straighter two section crossbar. This football goal is fast and easy to assemble as it has fewer post sections to fit together
The difference and why football clubs prefer these plastic 9v9 football goals is the straighter crossbar which does not dip in the same way as a Samba and other plastic goals. The football goal includes 'push button locking' system which requires no nuts or bolts and can be setup in minutes. These are the only plastic goal posts with net supports securely attached to the corner of the goalposts; all other plastic goals, including Samba goals, have unsecured net supports just pushed in holes.
The price shown includes VAT and is for a goal with all net fixings, multi surface long lasting quality white football multi-surface ground anchors.
Goal Net Fitting
The goal has unique patented 'Net Fixings' that allow neat and rapid fixing of goal nets to the rear of the posts. The ground frame includes 'ground frame net fixings' that extend the life of the goal net. The quickest and neatest way to lift nets on and off any goalpost. No need for time-consuming clips pulling goal nets around the front of the posts and nets pulled under the ground frame to fray as on all other free standing football goals.
Strongest Goalpost Corner Brackets
Itsa Goal Goalpost Corner brackets are designed for the hardest shots and the wall thickness is 300% stronger than competitors PVC goals.
The best on-line  price for this goal post is currently at www.soccertackle.com
To view a copy of the goalpost fitting instructions click here.
Football Goal Post Reviews

9v9 Goal Post Reviews

 Goalpost Reviewer: Mr. PREISTLEY -UK – 9V9 Goalposts -April 2011
Thanks it's a great football goal much better then the other 16×7 Samba uPVC goalpost I had before. Fast delivery too.

 Goalpost Reviewer:  RODOLPHE TOULOUSE  from Toulouse in South France MAY 2013
Many thanks for the 9v9 uPVC goal that is now installed in my garden. Very easy to install, the product shows very high quality. We had time to test it with friends (including adults) over the last weekend and both look and quality are awesome. Nothing has moved despite heavy shots on the bar/crossbar of the goal. My son is very happy and all his friends here in South France are now asking where he got this big goal… A stadium at home… Hope you will open a franchise out of the UK…you would have a lot of customers I think… Kind regards, Rodolphe

 Football Goalpost Reviewer: MARK SMITH
Many thanks for the excellent service, goals are assembled and have registered their first win. Thanks for the great service, quality of the goals and the speed of delivery. Best regards

 Football Goalpost Reviewer: KEITH POLLARD PRINCIPAL HARROGATE TUTORIAL COLLEGE – JULY 2011
Thank you for your immediate attention to this order, which arrived this morning.  Your response time and deliveries have been excellent.  Best regards

 Football Goalpost Reviewer: ANDY MORRIS JULY 2010 (U-15'S MANAGER – LEIGH GENESIS
May I say that these goalposts, four years on, are still as good as they day we bought them, with the quality of them, outstanding. Many thanks

 Football Goalpost Reviewer: NEIL HALL – GREEN UNITED WAKEFIELD UK
Neil Hall Green Utd Wakefield are very pleased with the 16′ x 7′ uPVC Goal posts with single section aluminum crossbars – top quality product. We are also looking for some full-size goals so we will be in touch thanks.

 Football Goalpost Reviewer: PAUL – ASTON SWALLOWNEST J.F.C.- JUNE 2013
We've had the 9v9 16'x7′ goalpost nets set up a few times during training and everyone has been really impressed with them, one parent even came down to you and bought a 12×6 for his son to play on the field with. The Samba goal looks shocking, glad we opted for yours. We will still be looking to upgrade the uPVC crossbar to the one piece aluminium crossbars when the club finally gets the shipping container sorted for storage. Thanks again,

 Football Goalpost Reviewer: RACHEL BEATON PORTREE HIGH SCHOOL UNITED KINGDOM
Thank you for supplying us with the football goals. We now have eighteen very happy football mad teenage boys. We had great difficulty in sourcing these goalposts from our regular supplier. Your staff and service has been second to none, excellent delivery times and great customer service. I would not hesitate in recommending your company and products.

 Football Goalpost Reviewer: MR CONOR MARNANE SWANSEA  JANUARY 2015
Bought these as a present for my football mad 12-year-old. Very happy with the posts, straight forward to put together, and they seem very sturdy. The net is good quality and is held well in place by the locking fasteners that come with the posts. Kind Regards