Beach Soccer Goal – Adult Size 5.5m x 2.2m – Aluminium Eliptical – Foldaway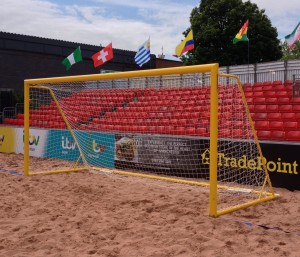 Beach Soccer Goal
Full size professional beach soccer goal posts. An innovative free standing and folding professional goalpost that is light yet strong and easy to move around.
The goalposts have fully welded quick release side frames that can be easily removed for storage. Ideal when pitches need to be set up in different locations or stored away after the game.
The goals also have a very simple anchor system for use on grass or hard surfaces.
Used by England Beach Soccer for the World Cup 2014 ITV Fever Pitch, Manchester.
Made to European safety standard EN 748 Multi-surface anchors included can be used on all surfaces recessed twist & lock net fixings to rear of posts. Easy to move & store. Back stanchions in rustproof aluminum and not heavy steel.
Rear ground back frame included with net fixings Optional wheels available. An optional counter balance weight system is available to secure goalpost . The system allows the weights to be used internally inside the rear ground frame when the goal is in a fixed position or externally when the goalpost is being moved. Includes : Locking Crossbar Fully weld side frames Twist & lock net Fixings Quality net Multi surface anchors Ground frame net fixings included Optional extras: Dollies Counter balance weights Quick release wheels
The best on line price for this Beach Soccer Goal is currently at www.soccertackle.com.
Beach Soccer Goals – Customer Reviews