Aluminium Stadium Goal Posts Complete UEFA Package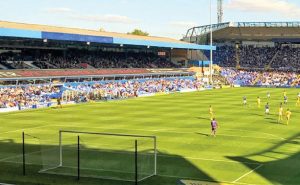 These Aluminium Stadium Goal Posts are the only stadium goals with a patented design.  A simple security lock system that is quick and easy to use allows crossbars to be lifted on and off with the turn of a key – no tools required – no time consuming nuts and bolts to secure posts together and no rusting parts. Each goalpost is supplied with easy to use net fixings that can be left attached in a locked position to the goal post. Secure flush lockable socket caps,(not un secured drop in socket caps) and  locking uprights for precise installation with goal line technology come as standard. A straight rear steel net retaining support frame is included that hinges from the base of the uprights to allow the goal net to be raised under the crossbar for maintenance. Also Included are two steel net support poles to retain the net.  This is the latest in stadium goal posts design technology.
Aluminium Stadium Goal Posts –
Lockable Elliptical Socketed Stadium Full-size Goal
A set of two professional stadium goalposts that Conform to the FIFA and UEFA regulations. High Quality professional elliptical 120mm x 100mm aluminum stadium goalpost; conforms to The European Safety Standards BSEN748.
Quality Football Goalpost Lockable Design
These football goals have fully welded corners to prevent expansion and contraction problems found on un-welded corners on goal post crossbars. They do not expand apart and therefore do not need regular re- alignment and tightening as with mitred version goalposts. Our goals prevent this constant need to tighten bolts. Crossbars can be lifted on and secured with barrel locks to the goal posts. Strong easy to fit nylon twist and lock fittings enable nets to be lifted on and off with ease.
Football Goal Safety
This goal is available in a single section one piece crossbar which is the most widely used. We also offer a sectional crossbars version which is ideal when clubs have limited storage. ITSA Goal Post Limited are the only UK Goalpost manufacturer to have goalposts made to EN748 European safety standards with two section crossbars. The goal posts can be securely left in situ with the added security of the locking mechanisms at the foot of the goal post and also barrel locked at the corner, where the upright meets the crossbar.
Aluminium Football Goalposts Include:
Aluminium Crossbar & uprights
Nylon Goalpost Recessed net fixings
Goal post Barrel locks & Keys
Locking mechanism at foot of post
Goal Ground sockets
Goal, Optional extras:
Goal Steel Socket locking caps
Goalpost Net support poles
Goal post Box shaped nets
Ground net pegs
The best on line price for this Stadium  Football Goal 24×8 is currently at www.soccertackle.com.
---
Why Buy ITSA Goal Stadium Goalposts.
1. GOAL FRAMES STAY TOGETHER
The less expensive self-build aluminium stadium goals have mitred corners that are only held together with internal brackets bolted together.
2. GOALPOST LOCKING SOCKET CAPS  INCLUDED
3. SECURE THEFT PROOF GOALPOST UPRIGHTS INCLUDED
4. FAST & SECURE  GOALPOST NET ATTACHMENT
5. PATENTED GOALPOST LOCKING SYSTEM – European & USA Patent GB 2423260
STADIUM BOX NET FITTING INSTRUCTIONS
Stadium Football Goalposts, 24×8 Goals – Customer Reviews

 Reviewer:  Shaun Hanna, Millom FC, ( The Football Association National Groundsman of the Year 2006 (Step 7 and below)
see the review of this product on the single goal product .

For  Football Goalpost Reviews