Aluminium Movable Goal – self weighted roller goals- 5 a side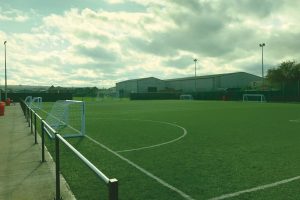 Aluminium Movable Goal – self weighted roller goals – 5 a side
Professional Aluminium roller 5 a side goal size 3.6m x 1.2m (12ft x 4ft). Designed to be extra durable for integral weights in the ground bar to act as a counterbalance and stabilise the goal when in use on an artificial surfaces. Ideal training goals that can be oved safely into various pitch positions. The goal includes a roller wheeled back goal frame and it can include the integral weights or the goal can be supplied without integral counter balance weights.
When the goal is used on wet heavy grass football pitches the goal is easier to move without integral weights and the goal can be positioned and then anchored separately with mufti surface anchors included.
The Aluminium Movable Goal – self weighted roller goal has lockable quick releasing fully welded side frames that can be easily removed for storage or left in situ. The roller football goal requires no nuts & bolts that need constant adjustment and tightening as the corners are welded.. The wheels are permanently at the back of the goal out of the play area (not on the sides of the goal); safer than flip over side wheels. The Itsa Goal roller goal also do not have heavy steel net supports but totally rust proof aluminium welded supports to complete side frames. The wheel system is a much better option than flip over wheels that buckle inwards become loose and unusable; they are easier to move in various directions and have a longer lifespan.
A goal includes normally includes a quality braided white net,  locking crossbar, fully welded side frames and supports, wheeled back bar(with optional integral weights) with permanent roller wheels and net fixings. Mufti – surface anchors and removable goal handles. The image below shows the larger 24'x8′ roller goal back bar with wheels attached.
Conforms to Goalpost safety standard BS8462-2012
visit our goalpost store www.itsagoal.co.uk for the best prices on  five a side  football Goal size 12×4
We also manufacture and adult five a size roller goal size 16ft x4ft
Price without integral weights
Price with integral weights included
Folding Football Goalpost, 12×4 Goals – Customer Reviews