9v9 Goalpost – uPVC Grass Surface 16′ X 7′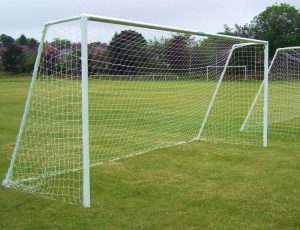 9v9 GOALPOST
This 9v9 goalpost resolves the issue of dipping crossbars seen on other uPVC goals.  The grass surface 9V9 goalpost is made from 68mm reinforced uPVC with a two section aluminum crossbar for ultimate straightness.The ideal club Match goal. Included is a top-quality net and unique ground anchors that require no digging.
Goal posts that are easy to assemble
The goal assembles via means of a 'push fix locking' system and  nuts and bolts on crossbar to connect the straight aluminum crossbar. This goal will also fit into our large 2.8m carry bag (available separately) for easy transportation as the crossbar is made in two sections with a join in the centre. (This goal can easily be stored without the need for a bag).
This goalpost  includes  Arrowhead Net Fixings for neat and quick fitting of the top quality net and ground anchors.
The Goalpost follows Safety Standard BS EN 16579:2018
FA recommended size for 9 v 9 soccer
Suitable for league use
Click here to view the 16×7 goalpost assembly instructions
Please note the image above shows the aluminum crossbar in mill finish, the goal comes with a white painted crossbar.  This goal is normally supplied with two section crossbars, however if goals are left assembled the goals are available in single section 16′ long crossbars.
The best on-line price for this 9v9 uPVC goalpost is currently at www.soccertackle.com
Goalpost Includes :

Aluminum two section Crossbar
Goal Post Sections
Patented 'Arrow Head Net fixings'
Quality Net
Steel Front Ground Anchors
Rear Ground Anchors

Goalpost Reviews

This goalpost section will be updated shortly