5 a side goal posts – Elliptical Aluminium Free Standing – 12′ x 4′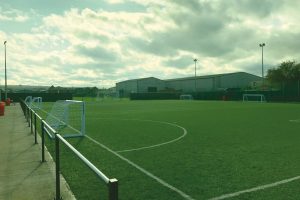 5 a side goal posts -Elliptical Aluminium Free Standing – 12′ x 4′
An innovative free standing demountable professional 5 a side goal posts that is light and easy to move around.
Ideal for when football pitches need to be set up in different locations or stored away after the game. The goals have a very simple anchor for use on grass. Much better than the free standing goals with heavy rear ground back bars or heavy rollers that are difficult to manoeuvre.
Strong, fully welded side frame
Conforms to the latest Goalpost safety standard BSEN16579.
5 a side goal posts size
Multi-surface anchors included
Can be used on all surfaces
Recessed twist & lock net fixings to rear of posts
Easy to move & store after the game
Back stanchions in rustproof aluminum and not heavy steel.
Dollies and wheel systems available
Unique counterbalance system available
Unlike other integral weighted football goals with a lever or rear wheel and roller systems that can entangle nets, our 5 a side goal posts
design can be easily repositioned on wet or muddy grass pitches and will not damage or rut the playing surface. Try one of these goals against any other free-standing goal and you will see how much lighter, stronger and easier they are to use.
This price includes net anchors and all fixings required and is per single goal. Without a doubt the best freestanding goalpost available. the frame is fully welded and not held together on the corners with nuts& bolts and they have the benefit of aluminum net supports not heavy steel tubes bolted on that need constant re-tightening.
Please call 0114 242 4244 for availability and best prices.
Aluminium Football Goalpost, 12×4 Goals – Customer Reviews