16'x7′ Garden Goal – Multi surface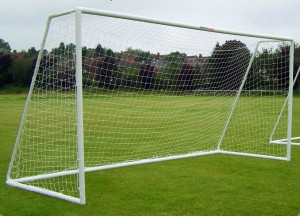 16'x7′ Garden Goal – Multi-surface for youth football and larger gardens.
This is a  match standard plastic youth goalpost for 9v9 football and is made from high impact UV stabilised PVC tube. The goalpost has one piece uprights and a two section crossbar to guarantee a straighter crossbar than on the larger 9v9 Samba goal posts.
It is accepted that these plastic football goals have the least dip of any comparable football plastic goals. With half the post sections of a Samba Goal and locked rear net support posts the goal post is much sturdier and goes together a lot faster than the equivalent Samba goal.
Net supports are securely attached to the goal frame and stay in place when the goal is moved or a football ball hits them (unlike Samba Goals that just push them into a hole). This goalpost includes multi-surface anchors and a top quality long lasting white net. The net on the football goal is attached to the posts with ties and not clipped around and under the posts which help prevent the net from fraying along the ground as on other goals. This is one of the reasons the goal nets outlast all the others. This football goal is designed to be left erected and have the goal net permanently attached. Length of goalpost run back 189cm.
9v9 goals made to the latest goalpost safety standard BS EN 16579:2018
300% Stronger goalpost corner brackets than all other uPVC 9v9 goals
Fully Locking 9v9 goal – Also locks the top stanchion not seen on other competitors match goals
9v9 goalpost net ties that extend the life of the net
3 Years Guartantee – Longer warranty than any other 9v9 uPVC goals
Longer lasting white goal nets – U.V. stabilised
The best online price for this goal post can be found at www.soccertackle.com
Please note:This goalpost is only available in the 'ITSA Goal' version' Click here for more information and to purchase
Garden Goal Specification

Goal Dimensions
9v9 Goal Size (Length x height) – 16ft x 7ft (4.88m x 2.13m)
9v9 Bottom Runback length 1.8m
9v9 Top net support run back length 0.5m

Goal Materials
Top Quality white net – Reinforced braided edges
Nets include a top head net cord to tie nets off and create a proper roof to the net

9v9 Goalpost advantages
Multi-surface ground anchors and pegs
300 % stronger reinforced goalpost corner brackets
Made in the UK – British Manufacturers ITSA GOAL Established Company – Est. 1989 – The inventors of the first portable goals circa 1989
Fully Locking Goal including the top stanchions
3 years Guarantee -Longest uPVC Goal Guarantee
Option goalpost bags for safe storage

16×7 uPVC Goalpost Assembly Instructions
Click to download a copy of the 16X7 uPVC goal match fitting instructions
16 x 7 Goals – Goalpost Reviews

Reviewer: Mr. M Jones-  2018
100% i will use Soccertackle.com, whenever we need more goalpost sets of football goals. We have purchased both 7 v 7football goals and 9 v 9 football goalposts and they are the best thing since sliced bread. Top company to deal with no question about that.


Click on the link to view more garden goal reviews  Football Goalpost Reviews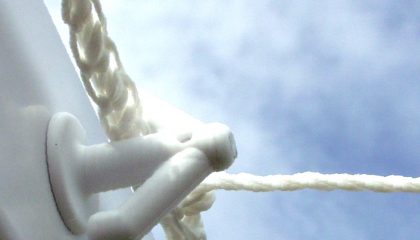 Easy to use, easy to fit, safe Arrowhead Net fixings.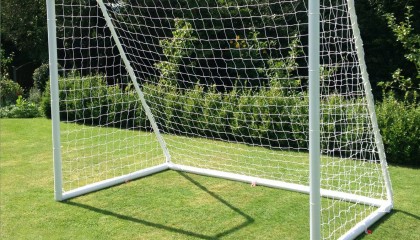 Strong reinforced Garden goal posts - the ideal 5v5 garden goals with extended guarantees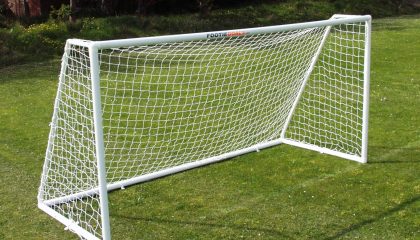 FA official size match standard 7 a side goals that conform to BS EN 16579:2018 which replaces 8462:2005+A2:2012.