five-a-Side Goalpost 12'x 4′ uPVC – 1 Section Crossbar Version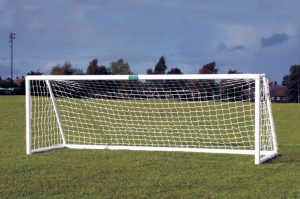 Five a Side Goalpost
This Five a Side Goalpost  measures 3.6M x 1.2M (12'x4′) and is made from UV stabilised 68mm diameter heavy duty environmentally friendly high impact uPVC. Supplied with a single section crossbar, uprights and ground frames – they are stronger, sturdier and quicker to install then other uPVC goal posts.
If the football goal is to be left erected or needs to be quickly dismantled after the game then this is the goal post  to order.
The goalpost side frames can be left together with the net attached, and on match days the frames simply pull apart to allow the crossbar to be locked in place with quick release press in buttons. The video shows how much quicker these goals can be erected in comparison to any other type of goal.( under 60 seconds – see the timed video)
Unique Goal Design Feature
The goal has unique  patented 'Arrow Head Net Fixings' exclusive to ITSA GOAL  that allow neat and rapid fixing of goal nets to the rear of the posts. The quickest and neatest way to fit nets on any goalpost.  No need for time consuming net clips that pull nets around front of posts and pull crossbars down.
All of the football goal frame including the net support stanchions lock in place via means of a unique quick release push in button system. Net support stanchions are securely attached to the goal frame and do not come out  when the goal post is moved or footballs hit the frame .
Touched up and small pictures might look okay on first sight but they do not show or inform customers about net supports that are not fixed or crossbars that  dip and how untidy the nets look.
ITSA GOAL products have always been made to match standards and all include ,a top quality net that out performs the rest, full spare parts back up and add on extensions to increase the size of the football goals as children grow.
This goal post is by far the best around and that is why we can offer a longer and more extensive guarantee than any other supplier.
Please call 0114 242 4244 for availability and best prices.
Football Goalpost, 5-a-Side Goals – Customer Reviews