8'x6′ Garden Goal – Multi surface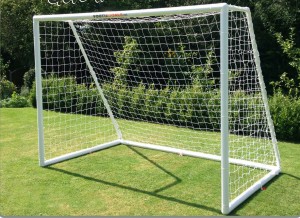 Garden Goal 8'x6′
The 8'x6′ Garden Goal Multi surface is one of the most popular garden goals we sell. It looks good in any garden large or small and can be used on any surface.
This affordable 8'x6′ Garden Goal is made in environmentally friendly high impact uPVC tube and is ideal when goals are be left in place in the garden with net attached.
This football goal uses the same mouldings, PVC posts and white nets that are used in the plastic club goalposts.  The goal net is not wrapped around the posts but is attached to the rear of the posts with ties that help prevent the net from fraying on the ground frame when being moved around.
A value for money and cost effective long lasting alternative to flimsy Far East, Forza and Samba Goals. The posts slot together and  have net supports that do not bend, crease or shatter and are securely locked in place unlike all other plastic goals that have net supports just pushed into holes and not secured in any way. Length of goalpost run back 153cm.
Garden Goal Multi surface
The 8'x6′ Garden Goal – Multi surface can be used on grass and other playing surfaces such as tarmac or artificial grass. A top quality children's goal "Made in Sheffield"  the home of football that is easy to install,fully guaranteed and competitively priced.
For the best online prices for the Affordable Garden Goals visit:  www.soccertackle.com
8×6 goalpost assembly – To view a copy of the goalpost fitting instructions click here.
Football Goalpost Reviews

Garden Goal 8×6 – Customer Goalpost Reviews

 Reviewer: Mr Noel Moffitt 2016 from Birmingham

Thank you so much ! Just finished for Christmas now and that has ended a brilliant year xxx
Georgina the goals arrived this morning which has really saved my backside! Thanks once again for your assistance even taking the call out of hours and rushing the order through so they arrived in good time, they will make one little boy very happy on Sunday morning! I would like to wish all your team a Merry Christmas.

Football Goalpost Features

Football Goal Includes :

Guarantee – subject to terms
Top Quality net
Multi-surface ground anchors
Reinforced industrial strength corner brackets
Weather resistant corners that will not rust
Made in the UK
Nylon nets are much stronger than polyethylene version and will last much longer than toy nets
Roof to the net(allows scoring under the crossbar, just like in a
professional goal)
Full spare parts after service, We look after our Customers.