8'x6′ Garden Goal – Multi surface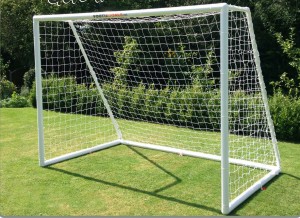 Garden Goal 8'x6′
The 8'x6′ Garden Goal Multi surface is one of the most popular garden goals we sell. It looks good in any garden large or small and can be used on any surface. This affordable 8'x6′ Garden Goal is made in environmentally friendly high impact uPVC tube and is ideal when goals are be left in place in the garden with net attached.
This football goal uses the same mouldings, PVC posts and white nets that are used in the plastic club goalposts.  The goal net is not wrapped around the posts but is attached to the rear of the posts with ties that help prevent the net from fraying on the ground frame when being moved around.
A value for money and cost effective long lasting alternative to flimsy Far East, Forza and Samba Goals. The posts slot together and have net supports that do not bend, crease or shatter and are securely locked in place unlike all other plastic goals that have net supports just pushed into holes and not secured in any way. Length of goalpost run back 153cm.
8 x 6 Garden goal conforms to latest goalpost safety standard BS EN 16579:2018
300% Stronger goalpost corner brackets than all other competitors uPVC goals
Secured goal net top post supports into top corners
Quality  net ties that extend the life of the net
Guaranteed.
Garden Goal Multi surface
The 8'x6′ Garden Goal – Multi surface can be used on grass and other playing surfaces such as tarmac or artificial grass. A top quality children's goal "Made in Sheffield"  the home of football that is easy to install, fully guaranteed and competitively priced.
For the best online prices visit our shop – click here
We also offer…
this 8'x6′ goalpost with a sectional crossbar ideal for storage and improved delivery costs – click to view
8 x 6 Garden Goal Specification

Goal Dimensions
Goal Size (Length x height) – 8ft x 6ft (2.44m x 1.82m)
Bottom Runback length   1.5m
Top net support run back length 0.5m

Goal Materials
Top Quality white net – Reinforced Braided edges
2.5mm UV stabilised HDPE net supplied with every goal
100 x 100mm square mesh net – more net than goals with larger mesh
8 x 6 Nets include a Top head cord to tie nets off between the top supports and create a proper roof to the net.

Goalpost advantages
Multi-surface ground anchors and pegs
300% stronger – Reinforced goalpost corner brackets
Made in the UK – British Manufacturers ITSA GOAL Established Company – Est. 1989
Totally weatherproof – can be left out all weathers
Can be easily transported – optional goal bags are available
Extended Guarantee

8×6 Garden Goalpost Assembly Instructions
8×6 goalpost assembly – To view a copy of the goalpost fitting instructions click here.
8×6 Garden Goals – Goalpost Reviews

 Reviewer: Mr T. Moore 2020 from Barent, Herts

Andrew,
Yesterday we received delivery of the football goal for my son for Christmas. I know we ordered past the pre Xmas delivery date cut-off, however you guys went well above and beyond in getting us the goal so quickly. Thanks very much – you've made a 9 year old very happy when he can open and build it on Xmas morning. Is there a feedback link where I can give you all fantastic customer feedback? Have a great Christmas with your family and loved ones.  Thanks again.

 Reviewer: Virginia Ripley – UK 13/05/20

Hi, I wanted to drop you a line to share my experience of purchasing an 8 x 6 ft goal from your company for my 13 year old son. If you wish to add this to your website under customer reviews I am more than happy for you to do so. I couldn't see an option on your site to write a review, hence my email. I would definitely rate the customer service 5 stars. On placing the above recent order, I phoned to enquire when I could expect delivery. I spoke to a gentleman who indicated he would ask someone to call me. The same day, I received a prompt phone call from Georgina Corker. Nothing was too much trouble when speaking to Georgina, she was so accommodating and took the time to explain the situation regarding there would be a delay in deliverying the item, that the parts were travelling south to Sheffield and would leave Sheffield on Monday or Tuesday and we would expect our item to be delivered by Friday of this week. We in fact received our order on Tuesday of this week, earlier than expected. Georgina agreed to keep me posted once the item had left Sheffield, which she did and the item was delivered the following day, on Tuesday of this week. I really feel that Georgina went above and beyond in terms of the customer service provided. Please can you ensure that she is made aware of this? The quality of the goal is very good indeed. My son, with a little help from his mum, put the goal together with ease. He loves it. Thank you so much for the product, the excellent service provided. I have already recommended your product to a friend of mine and will so going forward. Thanks again Virginia Ripley

 Reviewer: Mr Noel Moffitt 2016 from Birmingham

Thank you so much ! Just finished for Christmas now and that has ended a brilliant year xxx
Georgina the goals arrived this morning which has really saved my backside! Thanks once again for your assistance even taking the call out of hours and rushing the order through so they arrived in good time, they will make one little boy very happy on Sunday morning! I would like to wish all your team a Merry Christmas.

 Reviewer: John precious, United Kingdom June 2019

8x 6 Footie Goal Product Review – Andrew, – Just to say: A MASSIVE VOTE OF THANKS –  Not only did you exceed expectations by getting the goal here one day early but your packaging was also spot on. And having opened it, we are hoping we will be able to deliver it to our grandson OK tomorrow. Can't thank you enough for this wonderful example of service as it used to be! Thanks to you & all your team for making a small boy's birthday one that he really will remember.Cheers

 Reviewer: Mr Ray Murphy – December 2018 – UK

After checking various favourable online reviews for the goalposts offered by itsagoal.net/soccertackle.com, decided to order the 8′ by 6′ goalpost for our football-mad grandson as a Christmas present. Now when ordering Christmas presents online, I always try to get my orders in by early December at the latest to avoid any potential delivery delays. On this occasion, however, I ordered slightly later than planned but absolutely cannot fault the promptness and reliability of their ordering process – so we ordered on December 9th, received a follow-up email to say the goalpost had been dispatched on December 10th, and amazingly the goalpost actually arrived on December 12th, Very refreshing these days to get such a prompt and efficient turnaround. The company's promptness and efficiency, not to mention their absolutely fantastic customer service, was perfectly exhibited when we had a quibble that the box received on delivery was damaged and split open, meaning that we couldn't be sure if any of the parts might have fallen out before the delivery got to us. Please note this issue was purely with the company's couriers rather than the company themselves. However, on pointing out our concerns to the company, the extremely helpful Georgina from their Accounts Team immediately promised to get the issue resolved with their couriers and arranged to have a replacement delivery of a new goalpost set sent out to us – and she even promised that we would have the replacement goalpost by the morning of December 14th. With time running out for us to make any alternative arrangements/purchases in time for Christmas, I have to say we really had our doubts that we would actually get a replacement delivery of a new goalpost set in time for Christmas. But
quite remarkably, and true to the promises made by Georgina from their Accounts Team, the replacement goalpost DID arrive on the morning of December 14th, and this time the couriers had not damaged the delivery box in transit.

And as regards the quality of the goalpost, it really is extremely sturdy and top build quality.

So I would have no hesitations at all in recommending this company, and their goalpost product, and would definitely use them again despite the initial delivery problem. Their delivery turnaround and customer service was faultless, and its just so reassuring to know that they can handle any delivery hiccups so promptly and reliably – and how many times can you say that these days ?


Click on the link to view more garden goal reviews  Football Goalpost Reviews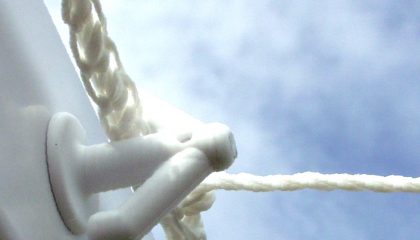 Easy to use, easy to fit, safe Arrowhead Net fixings.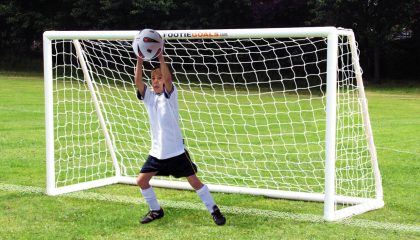 An ideal strong starter goal with children and even strong enough for the hardest adult shots. Totally Weatherproof, 300% stronger corner brackets and conforms to the latest goalpost safety standard BS EN 16579:2018.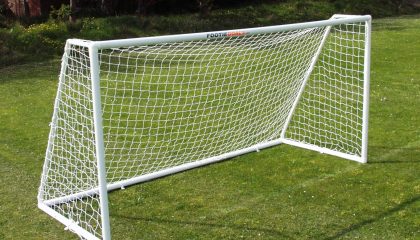 FA official size match standard 7 a side goals that conform to BS EN 16579:2018 which replaces 8462:2005+A2:2012.