8'x6′ Garden Goal – Multi surface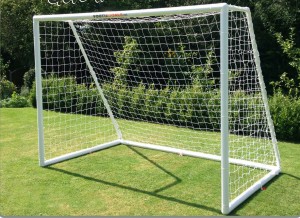 Garden Goal 8'x6′
The 8'x6′ Garden Goal Multi surface is one of the most popular garden goals we sell. It looks good in any garden large or small and can be used on any surface.
This affordable 8'x6′ Garden Goal is made in environmentally friendly high impact uPVC tube and is ideal when goals are be left in place in the garden with net attached.
This football goal uses the same mouldings, PVC posts and white nets that are used in the plastic club goalposts.  The goal net is not wrapped around the posts but is attached to the rear of the posts with ties that help prevent the net from fraying on the ground frame when being moved around.
A value for money and cost effective long lasting alternative to flimsy Far East, Forza and Samba Goals. The posts slot together and have net supports that do not bend, crease or shatter and are securely locked in place unlike all other plastic goals that have net supports just pushed into holes and not secured in any way. Length of goalpost run back 153cm.
Garden Goal Multi surface
The 8'x6′ Garden Goal – Multi surface can be used on grass and other playing surfaces such as tarmac or artificial grass. A top quality children's goal "Made in Sheffield"  the home of football that is easy to install, fully guaranteed and competitively priced.
For the best online prices for the Affordable Garden Goals visit:  www.soccertackle.com
Football Goalpost Reviews

Garden Goal 8×6 – Customer Goalpost Reviews

 Reviewer: Mr Noel Moffitt 2016 from Birmingham

Thank you so much ! Just finished for Christmas now and that has ended a brilliant year xxx
Georgina the goals arrived this morning which has really saved my backside! Thanks once again for your assistance even taking the call out of hours and rushing the order through so they arrived in good time, they will make one little boy very happy on Sunday morning! I would like to wish all your team a Merry Christmas.

 Reviewer: John precious, United Kingdom June 2019

8x 6 Footie Goal Product Review – Andrew, – Just to say: A MASSIVE VOTE OF THANKS –  Not only did you exceed expectations by getting the goal here one day early but your packaging was also spot on. And having opened it, we are hoping we will be able to deliver it to our grandson OK tomorrow. Can't thank you enough for this wonderful example of service as it used to be! Thanks to you & all your team for making a small boy's birthday one that he really will remember.Cheers

 Reviewer: Mr Ray Murphy – December 2018 – UK

After checking various favourable online reviews for the goalposts offered by itsagoal.net/soccertackle.com, decided to order the 8′ by 6′ goalpost for our football-mad grandson as a Christmas present. Now when ordering Christmas presents online, I always try to get my orders in by early December at the latest to avoid any potential delivery delays. On this occasion, however, I ordered slightly later than planned but absolutely cannot fault the promptness and reliability of their ordering process – so we ordered on December 9th, received a follow-up email to say the goalpost had been dispatched on December 10th, and amazingly the goalpost actually arrived on December 12th, Very refreshing these days to get such a prompt and efficient turnaround. The company's promptness and efficiency, not to mention their absolutely fantastic customer service, was perfectly exhibited when we had a quibble that the box received on delivery was damaged and split open, meaning that we couldn't be sure if any of the parts might have fallen out before the delivery got to us. Please note this issue was purely with the company's couriers rather than the company themselves. However, on pointing out our concerns to the company, the extremely helpful Georgina from their Accounts Team immediately promised to get the issue resolved with their couriers and arranged to have a replacement delivery of a new goalpost set sent out to us – and she even promised that we would have the replacement goalpost by the morning of December 14th. With time running out for us to make any alternative arrangements/purchases in time for Christmas, I have to say we really had our doubts that we would actually get a replacement delivery of a new goalpost set in time for Christmas. But
quite remarkably, and true to the promises made by Georgina from their Accounts Team, the replacement goalpost DID arrive on the morning of December 14th, and this time the couriers had not damaged the delivery box in transit.

And as regards the quality of the goalpost, it really is extremely sturdy and top build quality.

So I would have no hesitations at all in recommending this company, and their goalpost product, and would definitely use them again despite the initial delivery problem. Their delivery turnaround and customer service was faultless, and its just so reassuring to know that they can handle any delivery hiccups so promptly and reliably – and how many times can you say that these days ?

Football Goalpost Features

Football Goal Includes :

Guarantee – subject to terms
Top Quality net
Multi-surface ground anchors
Reinforced industrial strength corner brackets
Weather resistant corners that will not rust
Made in the UK
Nylon nets are much stronger than polyethylene version and will last much longer than toy nets
Roof to the net(allows scoring under the crossbar, just like in a
professional goal)
Full spare parts after service, We look after our Customers.

8×6 goalpost assembly – To view a copy of the goalpost fitting instructions click here.