12'x6′ Garden Goal – Multi surface Footie Goal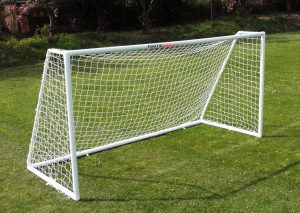 Garden Goal 12'x6′
The 12'x6′ Garden Goal – Multi surface goals are easy to install and take the hardest shots. These match style goal posts include net ties, a quality long lasting white net, ground anchors, and a substantial 1.53M run back, in fact, everything you need to set up a great looking football goal in your garden within minutes of it arriving. Rear net supports are secured to the frame (not just pushed into a hole as with all the other plastic goal posts) and stay in place when footballs hit them or if the goal is moved around. The crossbar on this goal, unlike every other plastic Mini Soccer Goal, is straight and does not have a noticeable dip in the middle, it is worth buying just for that!
These football goals are the Football Association recommended size for 7v7 football and can be used in affiliated matches. A garden football goal post that outperforms the competition and is engineered to last. A great value for money product "Made in Sheffield", the home of football that is competitively priced and fully guaranteed
This is a great birthday or Christmas present and something every budding soccer star would love to own. The best online price currently is from
12x 6 Garden goal made to the latest goalpost safety standard BS EN 16579:2018
300% Stronger goalpost corner brackets than all other uPVC goals
Secured goal net top post supports into top corners
Quality  net ties that extend the life of the net
Guaranteed.
Visit our goalpost shop for the best prices or call our goal line for advice Tel 0114 242 4244
12 x 6 Garden Goal Specification

Goal Dimensions
Goal Size (Length x height) – 12ft x 6ft (3.66m x 1.82m)
Bottom Runback length   1.5m
Top net support run back length 0.5m

Goal Materials
Top Quality white net – Reinforced Braided edges
2.5mm UV stabilised HDPE net supplied with every goal
100 x 100mm square mesh net – more net than goals with larger mesh
12 x 6 Nets include a Top head cord to tie nets off between the top supports and create a proper roof to the net.

Goalpost advantages
Multi-surface ground anchors and pegs
300% stronger – Reinforced goalpost corner brackets
Made in the UK – British Manufacturers ITSA GOAL Established Company – Est. 1989 – The inventors of the first 12×6 portable goals circa 1989
Totally weatherproof
Can be easily transported – optional goal bags are available
Extended Guarantee

12×6 Garden Goalpost Assembly Instructions
12×6 goalpost assembly – To view a copy of the goalpost fitting instructions click here.
Garden Goals – Goalpost Reviews

 Reviewer: Carl Gilbert – UK 2020

Dear Georgina,

My apologies for not sending this sooner (it's only been on my to-do list for the last two months!) but better late than never I guess. Firstly, I do hope this finds you well and you and your team are managing to weather the current 'storm'. I really just wanted to say a big thank you for all your help and advise you gave me regarding the correct goal for my son, he absolutely loves it and it's proved to be a real godsend the past couple of months during these difficult times. Also, another big thank you for sending it out so quickly and in time for his birthday and for pre-assembling some of the parts making it so quick and easy to set up on the day – your customer service really is second to none!

I'm so glad I purchased the 12′ goal over the 8′ as, despite my son being just seven years of age and quite small, he can comfortably 'fly' from one side of this thing to the other, quite to my astonishment and anything smaller really wouldn't have been so much fun for him to practice his 'keeping' skills.

On a personal note – I particularly love the perfectly straight (non-sagging) single piece crossbar – quite unique amongst all other goals in the marketplace at this price point, and I'm very grateful to you for offering me this option despite it not being part of your standard line for this goal.

So, once again, thank you for the great product and great customer service – your company is truly the benchmark to which all others should strive to be like.

I wish you continued success and hope you come out of this pandemic stronger than ever.

All the very best,
Carl.

 Reviewer: Richard, UK
I'm very very pleased with your "fantastic "service and the quality of your" Itsagoal " 12×6 system. Every good wish, Richard Kind regards.

 Reviewer: Mr Burrkit – United Kingdom
It was a real pleasure chatting with you, speaking to someone from a proud UK company that clearly has detailed knowledge, …understands their products and the needs of the customers is a delight and rare these days, so I'm glad I called. Thank you so much for being so helpful and friendly and the good advice on the goalposts to choose to best suit our needs….. Thank you again. Why can't all companies be like this!

 Goalpost Reviewer: Mr. Darren O'Donnell – United Kingdom
Hi John, I purchased the 12′ x 6′ football goalpost. The build is the best I have seen. "Fast delivery & delighted with the goals, they are the best goals I have seen & my kids love them. Once built you can tell they will last & they look great". regards

 Reviewer: Barrie Cram – 5th December 2016, UK
Hi there, I'd just like to say a quick thank you to Georgina for being so kind and helpful when placing my order. The Footie goals that we got delivered for Christmas are absolutely fantastic and I am so glad that I decided to go with your company after reading all the positive reviews.The quality of your product is far superior to anything that we have used before. My son is over the moon. – Barrie Cram

 Goal Post Review: DAVID AND NINA HEAD
We've had one of their excellent grass surface goals for a few years and this Christmas just gone our son asked Father Christmas for another so he could 'play proper matches'. Ordered a multisurface goal this time and it came really quickly, easy to put together and same excellent quality. In fact we liked the multi-surface goal so much we spoke to the company and they put together an upgrade kit at a very reasonable price so we could convert our original grass surface goal to a multi-surface one. If you want a really well made and well-designed goal that will last, from a responsive and helpful company, then I'd highly recommend them.


Click on the link to view more garden goal reviews  Football Goalpost Reviews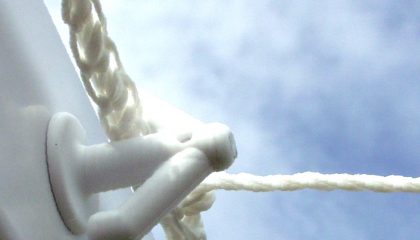 Easy to use, easy to fit, safe Arrowhead Net fixings.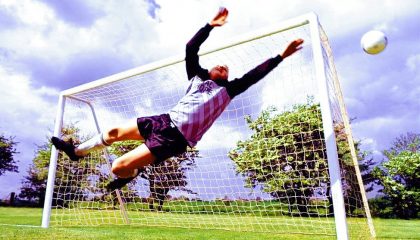 Best garden goal design for use on grass surfaces - ideal for the garden. Fewer goalpost sections so the goal is one of the fastest to assemble on grass surfaces.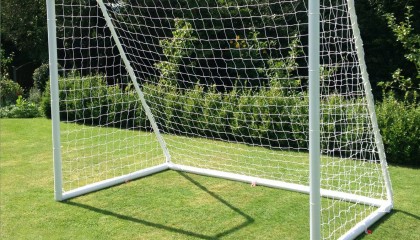 Strong reinforced Garden goal posts - the ideal 5v5 garden goals with extended guarantees