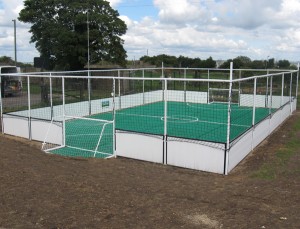 Mini Soccer Arena and multi-use games area – High Level with surround netting.
The Mini Soccer Arena is a portable football pitch made up of a system of rebound panels with a  protective  surround net to retain footballs.
The one shown is a one off special with three metre panels on the sides and two meter wide panels on the ends that incorporate 3.6m wide Mini Soccer Goals. 9 Normal side panels are made at 2.4m wide. When assembled an arena can be used for football or other multi use games & activities depending on the playing surface chosen.
The MINI SOCCER ARENA is ideal for small sided football matches, basket ball and in line hockey. The Arena  can be supplied in any size and with any size of football goals and is  Ideal for use at special sports events, at football academies and schools or any location where the activity needs to be in a controlled environment.
Spiked systems for use on grass are available or freestanding systems for use on hard standing areas with optional spectator walkways if required. The main difference between our system and others is that the net is supported at the top between the support poles preventing it from dipping in the middle and nets can be provided for each section making them easier and quicker to fit . The added advantage of this net system is that if you damage any of the netting you only need to replace a small section and not the whole side.
For up to date prices and more information please email John@itsagoal.net – or telephone 07974745768
To purchase this product please visit our online football equipment supplier – www.soccertackle.com