Aluminium Folding 7v7 Goals – Fast Start
FAST START ALUMINIUM FOLDING GOALS
Fast Start Aluminium Folding 7v7 Goals enables the fastest possible goalpost set up on match days. The safest, lightest, strongest and easiest to use folding goalposts available anywhere. So much easier than football goals with heavy steel folding hinged sides. These Fast Start Aluminium Folding 7v7 Goals are also available for 9v9 and 11v11 football for junior and senior football clubs.
LIGHTWEIGHT EASY TO MOVE &  EASY TO STORE
Unlike all the other hinged sided goals these Fast Start Aluminium Folding 7v7 Goals fold totally flat and take up half the space of other football goals. They have fully welded lightweight yet strong aluminium side frames with no steel at all making them totally rust free. Finger and ankle entrapment from swinging sides is totally eradicated on these patented goalposts. Controlled by a key holder the goals are quick and easy to move into position on match days. The goal side frames fold neatly under the crossbar and lock away after use.

When ready for use the side support frames are unlocked from under the crossbar and placed at ninety degrees into the open position and locked again. Once locked the goals are safe and secure whilst being used and after play, the key holder releases the lock and the sides simply fit back under the crossbar. The goal posts can now be safely moved and stored. This patented system provides a safe alternative to all other types of hinged sided goals that rely on pins or spring mechanisms that can fail and allow the side frames to swing in and act like a guillotine.
Goal nets can be removed easily or left attached to the frame when stored. Patented arrow head net fixings enable goal nets to be attached to the rear of posts alleviating the need for unsightly clips pulling nets around the front of the goalposts that damage paintwork. Fully welded aluminium construction alleviates bolt on heavy steel net support stanchions that need constant attention and will eventually rust. With no nuts and bolts to constantly tighten, no separate steel net support brackets to fit, these patented football goalposts are safer, rust free rust-free and easier to put up and take down.  A little more expensive than other folding goals but well worth the extra cost.
FULLY WELDED FAST ASSEMBLY Aluminium Folding 7v7 Goals
These folding goal posts will save hours of maintenance and heavy lifting. You can buy less expensive folding goals but the cheaper they are the heavier they become. We make goalposts that work, not goalposts that make work for our customers.  Note: The photograph shows a folding goal without the additional back bar ( not supplied as standard). We offer an optional goalpost back bars, the smaller image shows a background frame connected. This is ideal if used on artificial surfaces so the net can be attached to the back frame as opposed to pegging into the grass. It is also useful to add a back bar when wheels are used to move the goal post around. With the addition of the back bar and wheels, it is easy for one person to move the folding goal when the back bar is attached. See the video of the same type of football goalpost design. Additional counter balance weights are also advisable if playing on artificial surfaces. For the best online prices visit our recommended online supplier soccertackle.com 
Lightweight yet strong football goals
Slightly more expensive than other folding goals but worth it. If the goal posts need to be transported any distance easy wheel systems are optionally available.  The folding goals are light enough to carry however when goals are moved regular and long distances this product will increase your the product's longevity and reduce the likelihood of goals being forced apart and weakening corner joints through such movement….. The video below actually demonstrates the larger full-size folding goal of the same design and highlights
how easy the goal is to move compared to equivalent versions.
.
Conforms to BS 8462 : 20012 Goal post safety standard
European & USA Patent GB 2423260
Registered Design 5000197 5000198 5000199
The best on-line  price for this goal post is currently at www.soccertackle.com
This goal does not include the ground back frame – ideal for use on grass
This goal includes the ground back frame – ideal for use on any surface.
To view a copy of the goalpost fitting instructions click here.
Folding 12×6 Football Goal Post Reviews

Folding 12×6 Goal Post Reviews

 Folding 12×6 Goalpost Reviewer: PHILIP CLAYTON -UK – CHAIRMAN FLEETWOOD TOWN JUNIOR FC UK

We purchased five sets of aluminum goalposts from Itsagoal and are really pleased with their performance. Safety was our main concern and ease of use a close second and after a lot of research and advice, we were introduced to Itsagoal and have not regretted the decision. Each time our teams play now we get admiring glances from the opposition teams and many have commented on how professional they look. They are robustly constructed and yet still lightweight and satisfy a higher level of safety than the usual statutory requirements and when we are responsible for up to 500 children we can not compromise on safety. I feel sure that they will last for many years because they have been crafted so well in the beginning and we would recommend any other club to use the same.

 Folding Goalpost Reviewer: DENNIS HICKFORD, VICE-CHAIRMAN – WOODBANK JUNIOR FOOTBALL CLUB.

FOLDING ALUMINIUM GOALPOSTS I would just like to say how pleased we are with the lockable fold-in Mini-Soccer goals we recently purchased. We have fastened the netting permanently onto to frame because they can be easily stored and carried with the netting fixed. Once carried to the pitch the goalposts can be erected and secured to the ground within 60 seconds which is absolutely fantastic. As well as being easy to erect they are also the best and most professional looking goals in the league. Every team that comes to play us comments on the football goals. We have tried several types of goals over the years. Plastic, fully erected aluminum, solid D-side bracket types and these are by far the best we have ever had. Well done to its-a-goal for a fantastic, innovative design.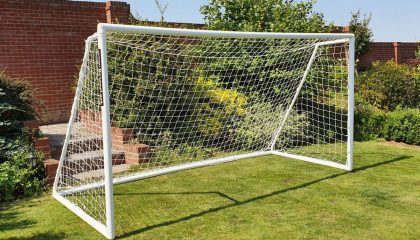 Fast Start Quick Goal - Fast easy to use folding goals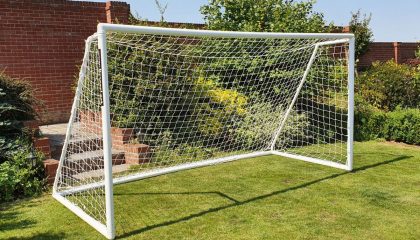 Strong Fast Start Quick mini soccer folding plastic goals.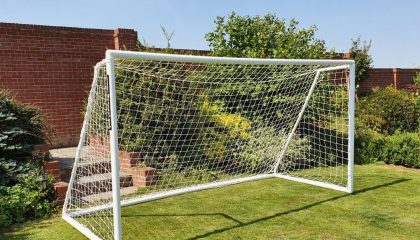 Fast, Safe, Easy to store children's folding goal. Weatherproof uPVC, 300% stronger corners than competitors' goalposts. Conforms to the latest goalpost safety standard BS EN 16579:2018.