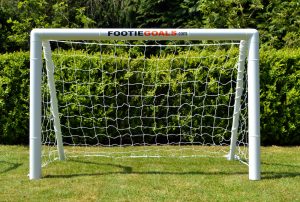 Garden Goal Post 4×3
This Garden Goal Post 4×3 is a great low cost starter garden goal post. Manufactured in UV stabilized high impact uPVC tube that can take the hardest shots.
This small Garden Goal Post  Includes locking net supports that secure them to the corners of the goal posts unlike other plastic goals such as Forza and Samba goals that just push net supports into holes unsecured. Length of goalpost run back 68cm.
The  Garden Goal Post 4'x3′ has a unique ground anchor system that requires no digging. A better option than flimsy plastic and metal goalpost supplied by the big on line stores that more often than not end up in land fill .
These football goals are "Made in Sheffield" and offer real value for money when buying low cost starter football goals for kids.  The football goals are easy to set up, easy to use and include a top quality white net that out performs the rest .
Goal posts at an unbeatable price that will last. You will not be disappointed with our goal posts…we guarantee it ! Your budding soccer stars may never score a winning goal at Wembley but you can give them the dream!
Strong reinforced goalpost corner brackets with lockable net supports.
The best on-line price currently for this Garden Goal Post 6'x4′ is currently at www.soccertackle.com
4×3 goalpost assembly – To view a copy of the goalpost fitting instructions click here.